Rice-Keibler - Hollywoods Hottest Rumors - Week of February 26 - March 4, 2006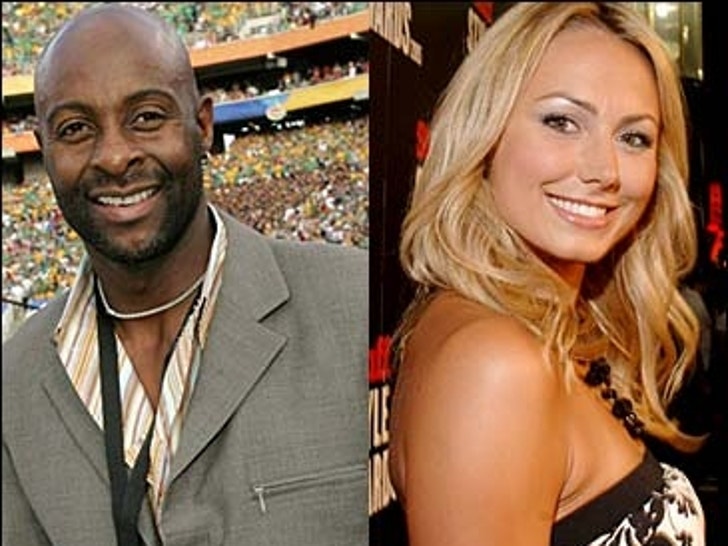 THE RUMOR: There will be a dance off between Jerry Rice and Stacy Keibler.
HOW IT STARTED: On Monday, the day after the 'Dancing with the Stars' finale, there was a buzz in Hollywood that the decision to kick Stacy off before Jerry was screwy and that the stage was now set for the same type of dance off that pitted Kelly Monaco against John O'Hurley.
HOW IT SPREAD: It doesn't take a rocket scientist to know that 'Dancing' was all that TV types were talking about on Monday. The ratings tell the story. 'Dancing' attracted 27.1 million viewers, crushing the Olympics closing ceremony which managed to pull in only 14 million viewers. Indeed, excluding the Super Bowl and the Oscars, ABC hasn't drawn a larger crowd since 1997.
THE TMZ LOWDOWN: TMZ has deep contacts connected with the show. The difference between this season and last is that O'Hurley groused about the votes after the first season finale, whereas Stacy and Jerry are fine with the results. Sources say that Stacy is excited and ready to explore other opportunities, including acting. In addition, Stacy is less than eager to dance again on a seriously injured heel.
As for Jerry, he's simply thrilled with the results -- no complaints from him.
And TMZ knows firsthand, Drew doesn't think a dance off will happen nor does he think it would be a good idea for the show.
What TMZ does not know is whether there's a clause in their contracts that could require them to participate in a dance off. However, sources at ABC tell TMZ that a dance off is not in the works, in part because Drew was the choice of both the judges and the viewers, and neither Stacy nor Jerry have issues with the results.
TMZ Truth-O-Meter: So, will there be a dance off between Stacy and Jerry?
Click below to find out!