The Z List for Saturday 06/24/06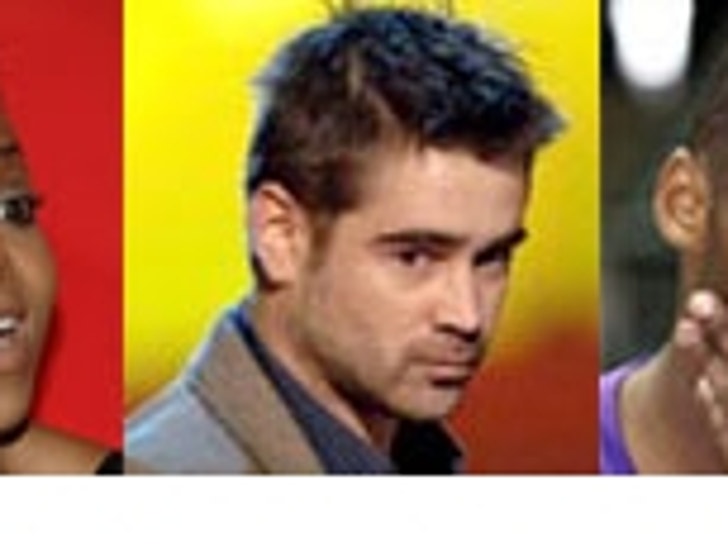 It's time for our weekly look at some of the less fortunate VIP's bouncing around the Zone, those whose latest career pursuits, romantic achievements and-or general demeanor relegate them to the temporary status of "Very Ineffectual Person."
It was bad enough that in her special interview with Matt Lauer, the songstress looked like she had been vetted by the Personal Stylist from Hell (seriously, whoever Okayed that low-cut top and right eye mascara smudge should be Manny-handled). But now, adding insult to injury, along comes Angelina Jolie to further expose the sloppiness of her small screen mea culpa. On CNN opposite Anderson Cooper, Jolie was everything Spears was not: well dressed, well made up (if at all) and, well, impressive. Maybe she can ride that new hairdo to a redo on Larry King Live.
Kobe Bryant, Shaquille O'Neal
With that mano-a-mano discussion between Bryant and TNT commentator Charles Barkley still having failed to settle just exactly what went down in the second half of Game 7 vs. Phoenix, the Laker duo this week had to endure Shaq's subtle post-NBA championship digs, as he deemed D-Wade the best player in the world (hint) and Pat Riley the best coach he's ever played for (hint, hint). Then came word that the No. 3 jersey worn by Wade is the league's official 2005-2006 best-seller, ahead of LeBron James and, ironically,Kobeat number three. Perhaps the only thing worse is that Shaq's latest acting credit, Scary Movie 4, is about to pass the $90 million domestic box office mark.
Earlier this week, word started circulating on the Internet – Batman & Robin style – that Farrell's upcoming Miami Vice flick (July 28, Universal Pictures) is a major dud. Only time will tell of course, but in the past few years, as Farrell has tried to channel his smoldering sexuality on screen in directions bisexual (Alexander), period (The New World) and Latina (Ask the Dust), the irony is that his best romantic performance (the Nicole Narain sex tape) has been kept under wraps. C-Far just turned 30, and so he's got lots of time to figure out the heartthrob routine. But for the love of a Leprechaun, Farrell's reps at CAA need to find him a homegrown Finn McCool type folk tale, or something, so he can finally soar onscreen rather than simply off in a romantic lead role.
Jay Blumenfield, Tony Marsh
First, their ABC reality TV show Welcome to the Neighborhood was pre-empted by ABC over political correctness concerns. Now comes word for this Tinseltown duo – who work under by the production name of Jay & Tony Show – that theirScottsdale, AZhousewives potboiler Tuesday Night Book Club is being yanked by CBS after just two low-rated episodes. Hard to say really what's worse: that some dude on the program's IMDB web page deemed it the worse show in the history of television (ouch), or that none of the featured gals could hold a dramatic candle to Victoria White O'Gara, Robert Evans' soon-to-be seventh ex (ouch, ouch).
With both critics and radio play lists leaning heavily in favor of Canadian songstress Nelly Furtado's singles "Promiscuous" and now "Maneater" rather than J.J.'s svelte comeback attempt "Call on Me" (a single arriving this week ahead of the September album, "20 Years Old"), the operative words here are indeed, "Whoa Nelly!" Despite the presence of stateside Nelly on her single and a spate of full-on bikini magazine cover PR, it appears as if Janet has failed to warm the cockles of Rhythm Nation. Adding to this week's bad karma is the fact that a Google search of "Janet Jackson" is just as likely to cough up news on the mother of bro' Michael's most recent accuser.