Christina Milian's Shopping Spree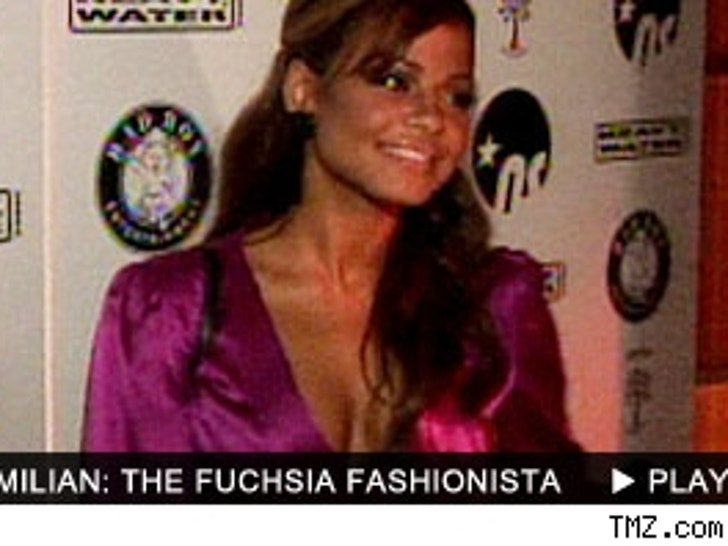 Recording artist and actress Christina Milian painted New York red last night -- or should we say fuschia -- as she arrived at Marquee nightclub to celebrate the release of R & B sensation and Diddy protégé Cassie's self-titled debut album.

Milian was just spotted last weekend dropping over $2100 in one Beverly Hills boutique. Only TMZ has Milian's itemized receipt from the celebrity boutique Harmony Lane.
Christina walked in to the trendy boutique carrying a black Fendi bag, yet after falling in love with a white LULA by Angelica Cota LoveLike Hobo bag - the star immediately dumped all her belongings from one purse to the next and actually left the store toting her new bag.
Milian shopped with her mother for hours in the store and both left wearing new Vita gold link snake bangle bracelets - Christina picked one in green and pink while her mother chose black and green. Milian also changed her shoes and left in her new white Jilly Swarovski crystal flip-flops.
Christina was reportedly hunting down clothes to take on a press trip for her latest movie, "Pulse" out August 11th. The 21st-century horror film also stars Kristen Bell.
Gilber Gilmore trousers in light lavender $229
Gilber Gilmore capri trousers in gray gold $209
Augustine two-way top in mocha $89
Jonquil two-tone silk and lace cami in bisque/bronze $169
California Vintage pants in tan $179
Voom silk flutter sleeve dress in olive $259
Jilly 10 Swarovski crystal flip-flops in white $98
LinQ sweatshirt tunic in ruby $68
LinQ long sleeve v-neck tee in cream $68
LULA by Angelica Cota Heart wristlet in gold $90
LULA by Angelica Cota LoveLike Hobo bag in white $375
Four large Vita Gold link snake bangle bracelets in pink and black $58 each
Two small Vita Gold link snake bangle bracelets in green $48 each