PoPoZao? No: PoPo ... WOW!
If you're planning on watching the Teen Choice Awards tomorrow night on Fox, professional daddy Kevin Federline wants you to know he's got some tricks up his sleeve for his big debut performance, which will close the show.
In an interview with People.com, Federline said he's going for the "Oh-My-God factor" when he performs a song off his upcoming album "Playing With Fire." K-Fed also said he's been improving his songwriting and performance skills over the past year. (Perhaps that's why he's become such a fixture at Las Vegas clubs-he was just practicing his music.) And to counter any rumors that he's resentful of being known only as Mr. Britney, he also told People that he's "glad when people link me to Britney. That's my wife. That's my family."
Kate & Pete Approach The Altar?
Will Kate Moss tie the knot with her on-and-off bad-boy boyfriend Pete Doherty this weekend? Page Six reports that rumors are flying that Moss and Babyshambles frontman Doherty-who was arrested last week on drug charges stemming from earlier incidents-will say their "I do"s at Jade Jagger's house in Ibiza.
There's also been an engagement ring, presumably from Doherty, spotted on Moss's finger. Of course, this isn't the first time that there's been speculation that the supermodel and her rock-star boyfriend were going to get hitched. But ever since explosive pictures of Kate were published on the front pages of British tabloids last year, people close to her have been saying that Moss would be wise to keep her distance from Doherty. Apparently she hasn't heeded their advice. Page Six also quotes a source saying that Kate's mother is "very unhappy that she is back with Pete, but there is nothing she can do. Kate says he is the love of her life." Doherty's sentencing on his latest drug charges is Sept. 4. Maybe the honeymoon will be over by then.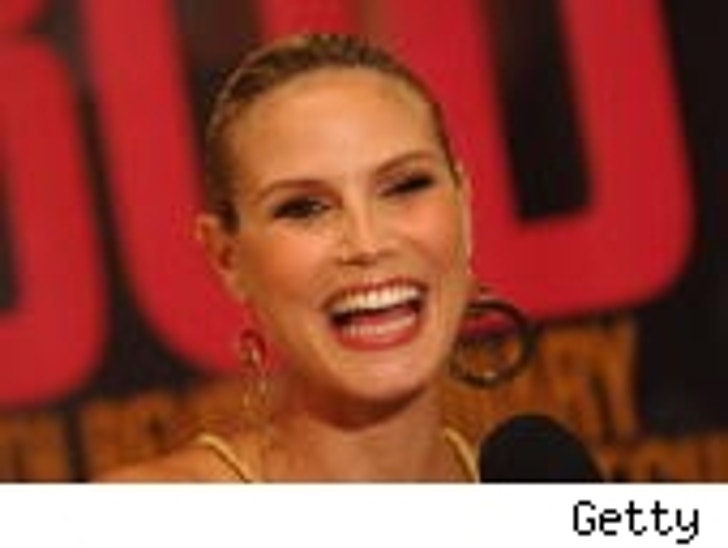 She may still be pregnant with her third child-her second with current hubby Seal-but Heidi Klum is ready for more. She tells Life magazine's current issue that she and her singer husband want to have "a lot of children." It seems that Seal thinks that the supermodel and "Project Runway" host is the most beautiful when she's preggers, and Klum is only too happy to oblige. Her first child, 2-year-old Leni, was with her former boyfriend Flavio Briatore, the Formula One manager, and her second child, 10-month-old Henry, was her first with Seal.
Ashton: A Rake's Progress
Before he decided to go all domestic with Demi, Ashton Kutcher's life sounded like something out of that R. Kelly song "Ignition" – or "Entourage." As he tells the September issue of Details (via Page Six), Kutcher would go to a club, stand on some couches, clutch a bottle of vodka, and, well – let's let him narrate himself: "You've got your right-hand man Puffy standing there. You've got Danny and Wilmer and all of our guys hanging out, and the [bleeping] girls are fighting to see who's going to go behind the table. . .Like gouging other b**tches out of the way."
And then the obligatory shift to a different club would happen, says Kutcher, the posse would enlarge by a factor of five, and his choices of bimbo would whittle down to "a select group of four. It was so ego-fulfilling." But Demi didn't seem to like it too much, says Ashton, screaming unprintable things at girls who would show up at their house in the wee hours.
Slithery "Snakes" Numbers
After months of hype, "Snakes on a Plane" finally landed late Thursday night-and now the numbers for the movie are starting to trickle in. E! Online reports that the movie took in $1.4 million for its screenings Thursday night on 2,500 screens. The only problem is that no one really knows whether that's good or bad. "Superman Returns" made around $3 million for its late-night screenings, but industry observers point out that "Superman" was a bona-fide blockbuster event, while ultimately "Snakes" is a B-movie. Still, some are estimating that the movie could pull in as much as $30 million this weekend-which certainly seems like an A-list amount of cash.