Britney Is the Best of the Worst!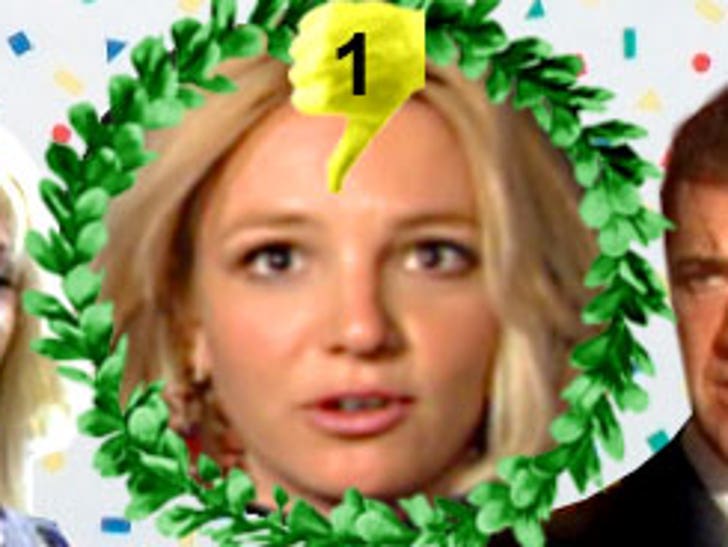 Mother-of-two turned party girl Britney Spears has been awarded the title of the Worst Celebrity Role Model of 2006. Our girl's come a long way!

According to an Associated Press/AOL News poll, Americans find drunken racist rants less problematic than flashing your lady candy, as Spears tops a list that includes the likes of Mel Gibson and Michael Richards. Oh, the humanity!
Following ever so closely on Britney's cha cha heels is the former Mousketeer's new BFF, Paris Hilton. Sorry P, but a DUI will only get you so far! Mel Gibson, aka Malibu's most wanted, comes in at #3, just ahead of everyone's favorite couch-jumping, anti-medication, A-list Scientologist groom, Tom Cruise, who is #2. Not-so-funnyman Michael Richards insults his way into the top five to round down the list of sadsacks.
To no one's surprise, philanthropic talkshow queen Oprah Winfrey was named the Best Celebrity Role Model, just ahead of beloved actor and stem cell research activist Michael J. Fox. Oscar-winner George Clooney came in third for his hard work in the war-ravaged Darfur region of Sudan. Those handsome looks didn't hurt his chances. Goodwill Ambassador Angelina Jolie edges out baby-daddy Brad Pitt to take the fourth and fifth spots, respectively.
Besting both Britney and Oprah to be simultaneously named this year's Top Bad Guy and Top Good Guy is none other than our very own Commander-in-Chief, George W. Bush. Regardless of what you think of the Prez, at least he didn't go pantyless!