Nick and Nessa's Hardcore SeXXX Pic Scandal!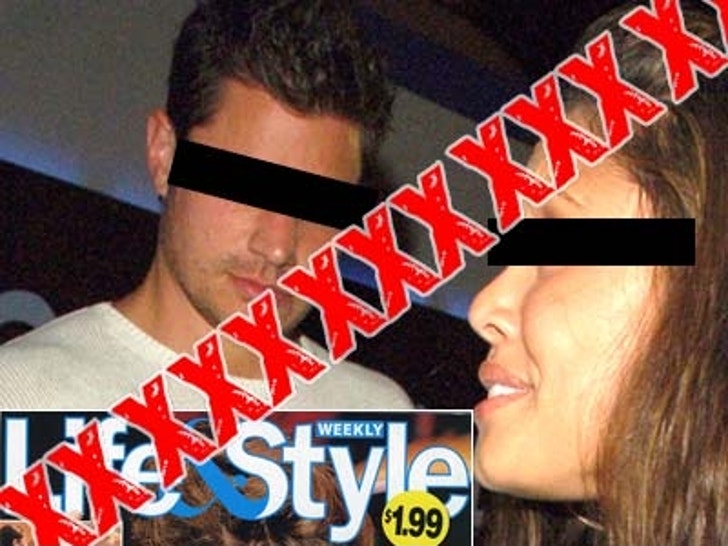 TMZ has learned that a lawyer for Nick Lachey and Vanessa Minnillo is trying to keep photos of the couple having sex out of the weekly magazines and off the Internet.

Racy photos of the hot couple were published in this week's Life & Style magazine, showing the two engaged in a heavy makeout session in a Jacuzzi at a private resort in Mexico. We're told, however, these photos only show part of the fun the couple had. Arriba!
TMZ has learned that the rest of the roll shows the two not only making out, but having hardcore sex in the hot tub. A source who has seen the photos tells TMZ that they are "Paris sex tape-level scandalous," and include images of the couple in several different sex positions. That's hot!
Nicole Richie IS Pregnant
TMZ has independently confirmed that Nicole Richie is pregnant.

The starlet has been dating Good Charlotte frontman Joel Madden for over six months. Rumors have been swirling for months that Richie and Madden were expecting, but TMZ has confirmed
through several sources that she is, in fact, with child. In Touch magazine is also reporting that the couple will wed this summer. Richie is currently facing DUI charges stemming from her arrest last December, when she was found driving the wrong way on a California highway.
Richie's trial is set for July 11. If convicted, she faces a minimum of five days in jail.
Richie's rep did not return repeated calls for comment.
Tori Spelling: INNsufferable!
Tori Spelling is following in her late TV mogul dad Aaron's tiny footsteps and learning how to create lots of drama -- behind the scenes!
Well placed sources tell TMZ that Tori was a total terror while shooting promos for the second season of her Oxygen "reality" series, "Tori & Dean: Inn Love." We're told the new mom was more than two hours late to the set and would not interact with other actors. Post-partum aggression! Sources say Tori was annoyed by the cast because they "looked too good." Oh the gall! Apparently, motherhood isn't agreeing with her!
On-set sources tell TMZ that Tori then insisted she shoot her scenes separately from other actors and against a green screen. The "good-looking" cast were then forced to wait around for Tori's shoot to end, so they could begin to do their scenes against the green screen. All of which would be combined in post-production and edited to look like they were one big happy family. Hmmm. Sound familiar?
A rep for Tori told TMZ that there were two separate stages, and "Tori was on-set at 8:00 AM. The shoot was always intended to include the green screens. " As far as Tori saying the other actors "looked too good," Tori's rep added, "That is absolutely ridiculous."
There's proof that one celebutante's trash is another man's treasure: Paris Hilton's garbage is fetching big money on eBay! Trashtastic!
A whole load of the heiress' trash has made its way into cyber bidding wars, thanks to HollywoodStarTrash.com. Items such as an empty can of dog food, a used toothbrush, and even an empty Coke can are grabbing big bucks. The canine tin alone sold for $305! The site also guarantees that this trash was taken exclusively from Paris' can. Oh really?
If a toothbrush and empty Coke can aren't your cup of trash, still for sale are used Q-Tips with genuine socialite earwax, and some tissues with blue makeup smears ... and a half stick of deodorant ... priceless! Bidding starts at $50.
WWE to Canada: Take Off, Hosers
The Chris Benoit double murder/suicide is still rocking the WWE, as they announced the cancellation of all Canadian events for the next month -- all because of the former "Canadian Crippler." While WWE sources claim that the "postponements" are to show sensitivity to the fans of Chris "Rabid Wolverine" Benoit, the WWE has a track record for bailing on the Great White North when troubles arise.

The death of Benoit's friend and teammate, Owen Hart, in 1999 kept the company away from parts of Canada for an entire year. After wrestler Bret Hart and WWE big cheese Vince McMahon's infamous "Montreal Screwjob" in 1997, they hid out until late '98. However, others say that the REAL reason for the cancellation is to avoid the ire and the loud, often profane chants of the live Canadian crowds. Chants of "You killed Owen!" and "You screwed Bret!" filled Canadian arenas for months after those scandals.
Perhaps the WWE isn't taking any chances on two live tapings of their RAW and SmackDown programs being filled with angry chants of "You killed Chris!"

Lohan Parties in her Bathing Suit
Lindsay Lohan pranced around on the beach in a skimpy bikini for her birthday -- what a way to celebrate!
TMZ cameras were on the sand in Malibu for the rehab inhabitant's 21st, where LiLo frolicked around a beach house in nothing more than a bathing suit and some sea foam green stripper shoes as buddy Samantha Ronson spun some music for the party.
Lohan was spotted snapping photos of her friends and family -- who included Nicole Richie's ex DJ AM, Evan Ross, mom Dina and mini-lookalike sister Alli -- she even took pix of paparazzi with her very own telephoto lens.
Linds left the party at around 2:15 AM and was whisked back to Promises, where she'll complete her second stint in rehab.
Party Favors: Nicky Glazed Over at Frittelli's ... Wrestling Legend DiBiase Defends Benoit ... Alyssa Milano's Wants You to TOUCH 'Em All ... Man Pleads Guilty to Posting 4 Hours of 24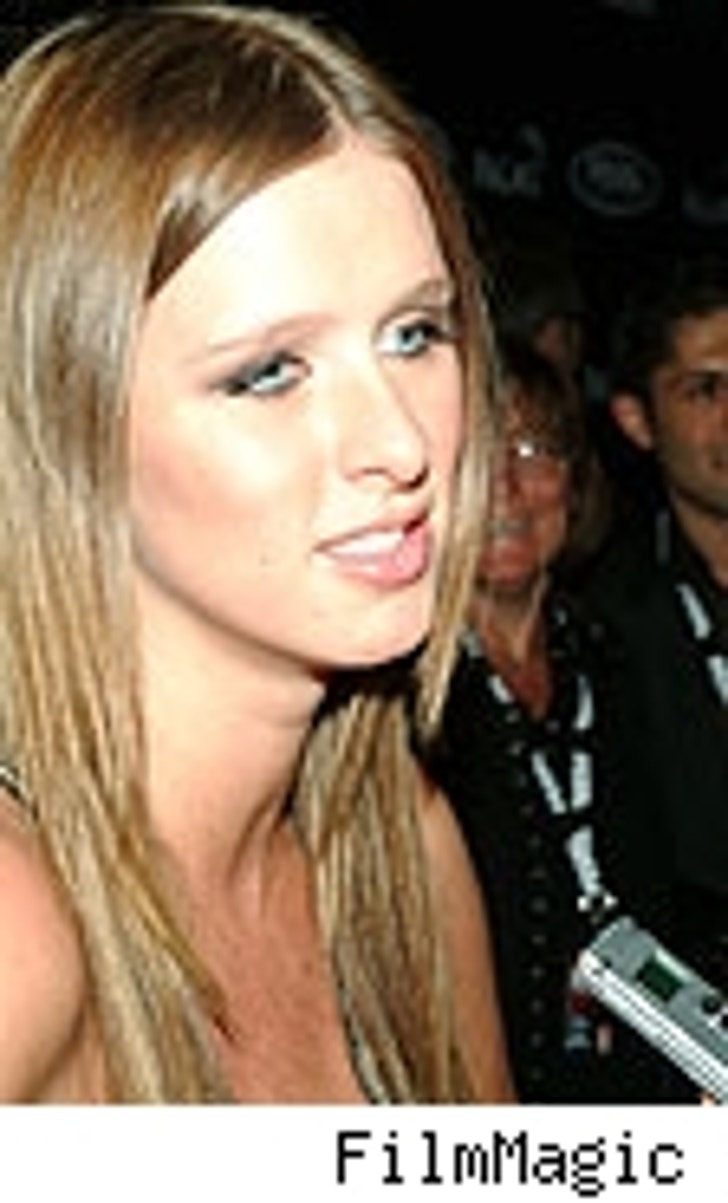 While Paris was getting lei'd in Hawaii this weekend, lil' sis Nicky was spotted with a guy pal at the Governator's fave Beverly Hills donut shop, Frittelli's, having an iced latte and a glazed donut. Sweet! ... Ted DiBiase, wrestling's legendary "Million Dollar Man," tells the Post Chronicle that fellow grappler Chris Benoit was an "unselfish, soft-spoken" type who made considerable sacrifices to be with his family, which he is suspected of murdering before committing suicide last week. ... Ever the big sports fan, Alyssa Milano is teaming up with Major League Baseball to create a line of "fan-fashion" jewelry for her TOUCH line, just so you look perfectly glam while sucking down brats and beer at the ballpark. ... A Chicago man pleaded guilty yesterday to a felony charge for posting the first four episodes of this season's "24" on the Internet before they appeared on TV.