Usher F**ks With the Wrong Fan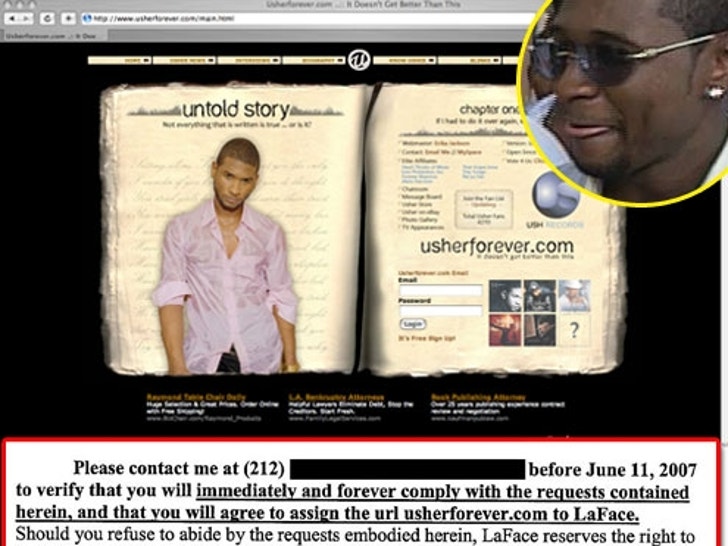 Usher Raymond is determined to sanitize all the Usher news around, even if he's got to strong-arm his biggest fan site with legal action in order to keep it that way. But the webmaster of the site tells TMZ she's willing to slug it out in court with her fave R&B star, just to make her point.

Erika Jackson, webmaster of usherforever.com, tells TMZ that she's been hit with a full-scale legal blitz from a tag-team of both Usher's personal lawyer and his label's lawyers, and claims that the trouble started earlier this year when she refused to turn her site -- the self-proclaimed "biggest Usher site" on the Internet -- into a sanitized official site. (The legal threats were first reported by the New York Daily News.)
Not long after, says Jackson, the lawyers tried to bring the hammer down on her, demanding that she "assign the url usherforever.com" to LaFace Records, Usher's label, because it might confuse fans into thinking that it had an affiliation to Usher. Jackson points out that other sites -- like Usher.net and UsherRaymond.org -- that are closer in name to the singer -- haven't been accused of being "confusing."
Usher attacked the media and even fans last week in an open letter to People, saying that speculation about his relationship with fiancee Tameka Foster and the reported firing of his mom as manager were "disturbing." A defiant Jackson says that she won't lay down and that she's prepared to go to court with Usher.
Neither Usher's label rep nor his lawyer responded to requests for comment.