Star's in Big Trouble with Detroit Big Girls
A Detroit organization says Star Jones screwed them, big time! The founder of Full and Fabulous says Star Jones stiffed her organization and partied on their dime -- and TMZ has the documents that seem to prove her point!
The local women's group -- Full and Fabulous, a non-profit organization that helps plus-size women and girls cope with peer pressures -- told Detroit TV station WXYZ they invited Star to speak at their "Health, Beauty and Self-Esteem Expo" during the 2006 Super Bowl in Detroit. They say Jones demanded first class airfare, a suite at a five-star hotel and $30,000 to show up. They bought Star the plane tickets to Detroit, which she used to party it up over Super Bowl weekend and plug her book. The only thing is -- she never showed up at the Expo!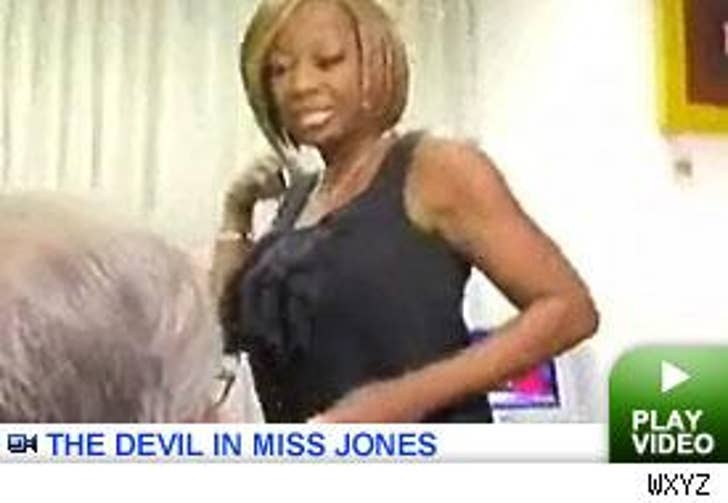 Sharon Dumas Pugh says that for nearly ten months Full and Fab sold dinners, did car washes and even found sponsors to help raise the cash to bring Star to Motor City. We're told they also sold tickets for the event, but when Star was a no-show, they had to return ticket money. As first reported by Steve Wilson of WXYZ, Sharon says they gave Star a $10,000 deposit, and sent her an additional $6,000 -- which Sharon told us Star claims she never received. TMZ has obtained several emails and letters that show the back and forth between Sharon and Power Performers, who brokered the deal. Oh no they didn't!
Check Star's reaction when investigative journalist Steve Wilson of WXYZ in Detroit confronts her about allegedly ripping off the Detroit non-profit. And she's a lawyer!
Star's rep vehemently denies the group's story, and issued the following statement to TMZ: "It is unfortunate that Mr. Wilson and this for-profit Expo has chosen to so gravely distort the facts surrounding this speaking engagement for their benefit. Ms. Jones' lecture agency William Morris was contacted on April 18, 2005 to have her speak at an Expo on February 4, 2006 for $25,000. Per the accepted terms of the deal a deposit was to be issued by the organizers on July 4, 2005 with the balance being submitted 48 hours prior to the scheduled travel date."
TMZ obtained the contract for the event between Star Jones and Power Performers that ndicates if the "event purchaser" fails to pay the $25,000 appearance fee, Star is under no obligation to proceed with the appearance and she can retain any amounts paid to her or on her behalf -- such as plane tickets. The contract also indicates a $10,000 deposit was to be paid by August. We're told that payment wasn't made until January.