Bodyguard to Star Mag: You Got the Wrong Guy!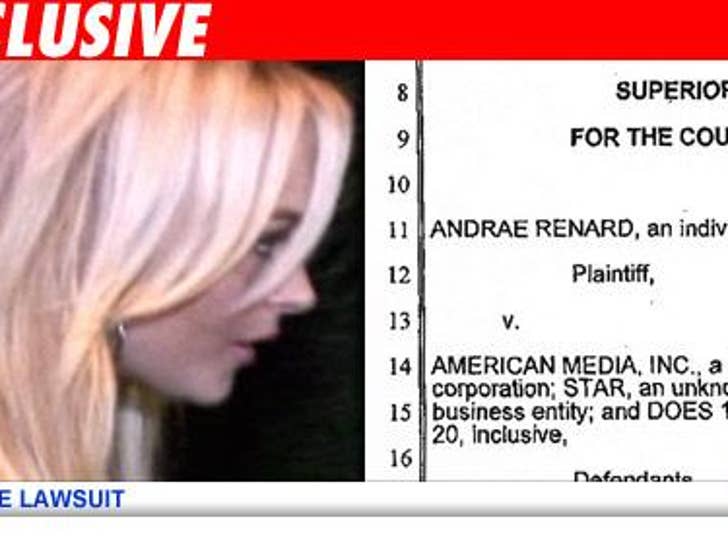 Talk about mistaken identity! Lindsay Lohan's former bodyguard, Andrae "Doc" Renard, is suing mad at Star magazine, claiming they ran his photo over an article that quotes a former bodyguard of Lilo's spilling the beans on her wild escapades. Problem is, it wasn't Doc who talked. Oops!

The Star article, dated June 25, 2007, says "The drugs, the guns, the wild sex and the cutting -- the man who witnessed it all reveals Lindsay Lohan's darkest moments." Unfortunately, man who blabbed was a bodyguard named Lee Weaver, but instead they ran a photo of Renard!
Now Doc says his career as a bodyguard is "irreparably damaged" as a result of the "libelous use of his photograph." In a worse indignity, he's been "banned from entering certain elite Hollywood nightclubs."
UPDATE: Star magazine's Editor-in-Chief Candace Trunzo tell us they printed this retraction and issued the following statement to TMZ: As soon as STAR was notified that we identified the wrong bodyguard in the photo caption of the Lohan bodyguard tell-all, STAR immediately withdrew the article from its website, and corrected, retracted and apologized for the error (attached). The man who identified himself to us as Andrae "Doc" Newman (not the name of the plaintiff in the lawsuit) also demanded a million dollars for the mistake, which we simply believe is wildly excessive.