Pet Store "Horrified" and "Appalled" by Puppy Mills
Pet Store
'Horrified' and 'Appalled'
by Puppy Mills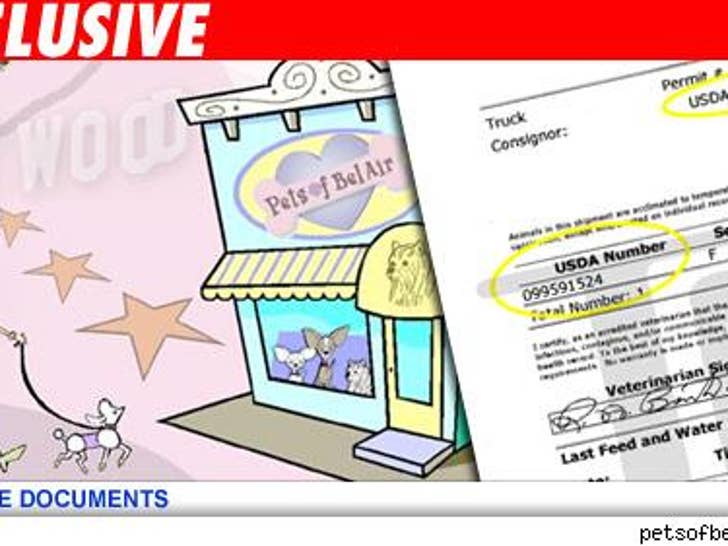 The chi-chi pet store where Paris Hilton and Britney Spears got their pooches says they're "horrified" and "appalled" by the possibility that their dogs might've come from a puppy mill, but stopped short of admitting that that's where they came from.
In a statement issued to TMZ, Pets of Bel Air says that it would "never knowingly buy a dog from a puppy mill," as the Humane Society of the United States has alleged. Pets of Bel Air also says that "to the best of our knowledge," all the puppies are from approved breeders. As for its permit to sell animals, which had expired, the shop says it was a clerical error that allowed it to expire. They've provided TMZ with the renewed permit.
For the statement in full, read after the jump.
We are horrified by the recent video released by the Humane Society of the United States showing footage of puppy mills. We do not condone puppy mills; we would never knowingly buy a dog from a puppy mill; and we are appalled by the possibility that this may have happened. We are investigating all of our sources so that we continue to nurture the finest and most reputable dogs from the best breeders, a practice that we've held central to our business since we opened nine years ago.
To the best of our knowledge, our beautiful puppies purchased out-of –state are from USDA approved pet breeders. We rely on our governmental agency to be sure that these breeders are inspected. All of our puppies are given health checks by our store veterinarian when they become part of our family and before joining their new families. Our puppies are all sold with a health warranty, and are not available to go home to their new families until they have been cleared by a veterinarian.
It has been brought to our attention that our permit to sell animals has expired and we have remedied this issue. The permit fee went inadvertently unpaid due to a clerical error. Upon completion of an inspection by Animal Services, which is scheduled for Thursday, Pets of Bel Air will reopen.
Pets of Bel Air has been a trusted neighborhood business for many years. Every employee at Pets of Bel Air is an animal lover, as evidenced by the care and love we show our puppies and kittens each day; the healthy environment we provide; and the respect we show each of you. We continue to be a community pet store you can trust.
Thank you for your continued support.
Pets of Bel Air

UPDATE: The HSUS issued TMZ the following response: "The Humane Society of the United States' investigation makes it clear that Pets of Bel Air puppies came from puppy mills. The store's claim of ignorance just doesn't measure up: they made absolute assurances to their customers of the sources of their puppies - noting specifically on their website that their "babies come from private breeders". These claims are typical of slick pet store sales techniques - and Pets of Bel Air would have kept on making them if not for The HSUS' investigation.
They also can't deny the confessions of their store staff about the health of the animals, and their description of how they mislead customers.
Pets of Bel Air claims they set the standard for the pet store industry - that's exactly our fear. Pets of Bel Air's deceitful tactics are standard fare in pet stores across the nation. The pet store industry knowingly supports the cruel and reckless business of puppy mills. The HSUS will continue to work tirelessly to shine a spotlight on this indefensible abuse and let the public know how to avoid supporting it themselves."