Kim K -- It's Like Manson Came for Dinner!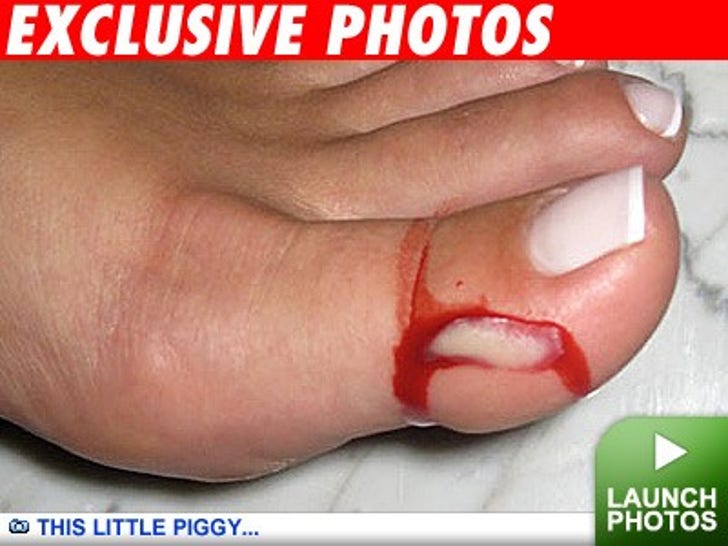 TMZ obtained photos of the aftermath in Kim Kardashian's hotel room, where she cut her toe on a glass mirrored coffee table (see photo).

Our spies say Kim described it as looking like a murder scene. If so, it could be one of the cleanest murders ever.
Romo to Jess: Don't Be a Homewrecker
Tony Romo is in for a double nightmare -- he's about to renovate his brand new house, and we're told the person doing the job is Jessica Simpson.

Romo has purchased a home in a Dallas county suburb. It's 5,551 square feet with 5 bedrooms, 4 full and two half baths, a game room, pool and spa. It's also in a gated community with a golf course. He bought it for $699,900 -- just about what he makes in one game.
And with all the money he saved on the house, Romo can probably afford someone to renovate Jessica's renovations.
Sajak to Loggia: Wanna Buy Some Recognition?
The pappers had no problem picking Pat Sajak out of a lineup in front of The Ivy -- too bad the same couldn't be said for his bud, "Scarface" and "Big" star Robert Loggia.

That's R -- as in Robert Loggia. O -- as in Oh my god, it's Robert Loggia...If you watch Family Guy, you know how the rest of this goes...
There's a whole lotta crack-a-lackin' going on in Hollywood -- superstars go from being on top of the world, then almost instantly, they plummet to rock bottom. It happens way too often -- click here and check it out for yourself.

Akon and Lady Gaga: Let's Go for Grope
Akon -- who infamously tossed a kid off stage last year -- showed Lady Gaga his fine-tuned technique while they performed at Rehab in Las Vegas this weekend.