Brad Pitt -- The Real Real Estate Story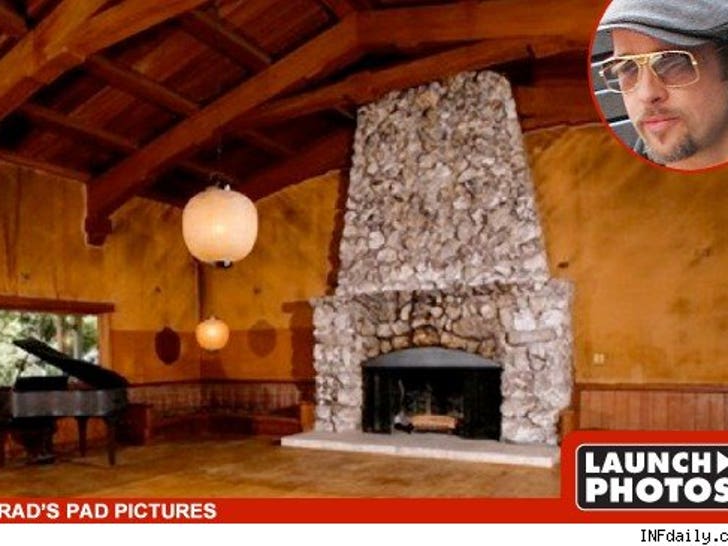 There have been numerous reports that the home Brad Pitt recently purchased is the smoking gun that he split from Angelina Jolie ... and that Brad intends to use the home as a new bachelor pad -- but TMZ has learned it's all BS ...
The home -- located in the Hollywood Hills -- is the newest piece of Brad's master plan to expand the sprawling compound he shares with Angelina and their children.
The evidence is clear -- first off, Brad purchased the home back in August -- long before rumors of a break up began to make the rounds.
Second -- the place was a dump and Brad couldn't move in -- even if he wanted to -- because the home was far from livable at the time he bought it.
But most important -- Brad is a real estate PacMan, who's purchased several properties surrounding his home in an attempt to expand his already sprawling estate. It's kinda like expanding your kitchen -- if your kitchen had 3 bedrooms, 3 baths and a view.
Brad's newest home is contiguous with his compound -- and perfect for his ever expanding family ... a family that still includes Angelina.
There is no sneakin' up on these stars -- see which stars are watching their own back!
The Situation Stomachs the Competition
"Jersey Shore" housemates J-Woww and The Situation took their "guido" tour to Miami on Wednesday, where they judged something called the ABSolutely best hard body contest.
Sister, please! See the stars that share the spotlight with their celebrity siblings.
From brothers to mothers -- sometimes fame just runs in the family! See which stars have celebrity ties!
Fan Buys Michael Jackson's Vegas Home
Michael Jackson's Las Vegas home is now in good hands -- a fan of MJ's just plunked down $3.1 million to be the new king of the singer's old castle.
Problem is ... selling the house wasn't as easy as you think. One of the real estate agents tells us after Michael's death, tons of fans flooded the mansion pretending to be potential buyers ... but were lying just to get a peek at the King of Pop's old digs.
One deep-pocketed fan ended up being the real deal -- and ended up buying the nearly 16,000 sq ft. palace.
Guy Who Sang 'Ghostbusters': 'Memba Him?!
In the '80s, Ray Parker Jr. became famous with songs like "The Other Woman" and the theme song to the hit film "Ghostbusters." Guess what he looks like now!