Susan Boyle Walks Off 'America's Got Talent'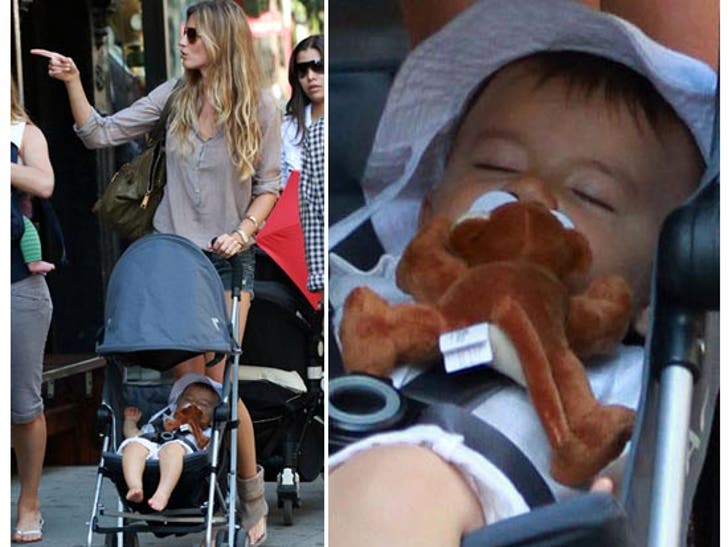 TMZ has learned Susan Boyle has left Los Angeles in tears after being snubbed by a songwriter who refused to let her sing one of his hits on "America's Got Talent."
Susan arrived to L.A. earlier today to perform the song "Perfect Day" on the show.
Sources connected to the show tell TMZ ... producers needed permission from the songwriter, Lou Reed -- the former lead singer for The Velvet Underground and famous for "Walk on the Wild Side" -- but at the last minute they were informed that Reed refused permission because he isn't a Boyle fan.
When Boyle found out, she dissolved into tears -- unprepared to change her tune for the show.
We're told Boyle went to LAX this afternoon -- still in tears -- and is catching a flight back to London.
"America's Got Talent" refused to comment.
Gisele & Benjamin's SoHo Stroll!
The day after strutting some killer couture on the catwalk , Gisele Bundchen popped up on the streets of NYC with the one person who can steal her spotlight: Her adorable son, Benjamin.
While the supermodel mom did some serious window shopping in SoHo, her cute baby with Tom Brady caught some Zzzzzz's.
Shhhhhh ... he's sleeping.
New Spa & Hotel Caters to Celebs on Four Legs
A new 32,000-square-foot hotel with private luxury suites, a salon, spa and even limousine transportation is set to open in an exclusive part of Los Angeles next month and they have just one rule: no humans allowed.
The Barkley (get it?) is getting ready to open its doors in Westlake VIllage on October 25 and they are planning a giant grand opening with an A-list celebrity pet guest list. They are planning on doing their own version of Grauman's Chinese Theater and having famous pets put their paw prints in the cement outside the hotel.
We're told so far invitations have been extended to the pets of celebs like: Britney Spears, Paris Hilton, Jennifer Aniston, Rihanna, Nicole Richie and more.
No word yet on who will actually show.
Can you guess which awesome mom took a break on set to play with her little beach boy?!
"NJ Housewife" Kim G -- From 2-Faced to 2-Pieces
While at the Jersey Shore this weekend, wannabe "Real Housewives of New Jersey" villain Kim G had no one to double-cross ... so she showed off her mature lady parts in a hot pink bikini instead.
Classy Kim, age unknown, really is a Shore thing.