Vicki from "Small Wonder": 'Memba Her?!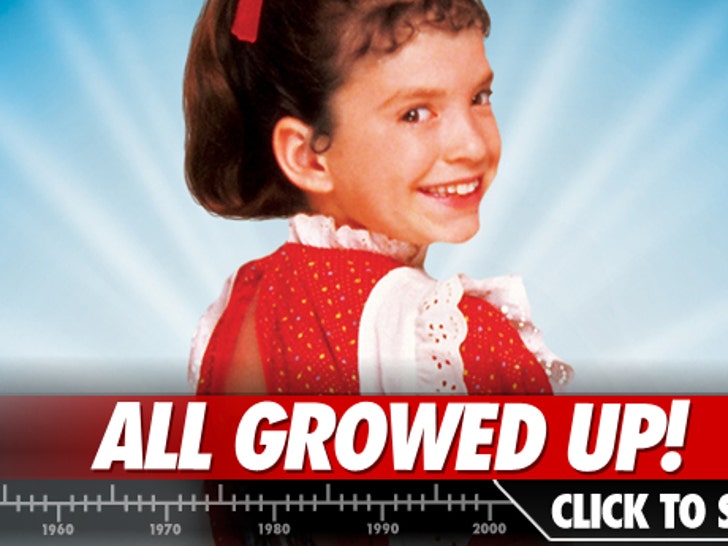 Johnny Depp Gets Jack'd Up
Johnny Depp was back on set today to resume filming on "Pirates of the Caribbean: On Stanger Tides" in London -- where we got a closer look what it takes to get him to look like Captain Jack Sparrow.
Depp arrived on set with his hair down, wearing jeans, a t-shirt and a plaid shirt -- but then re-emerged with his hair in braids ... which were then covered up with a wig.
Check out Depp's crazy transformation -- plus zoom in on some secret set shots!
Taylor Swift -- Mannequin on the Move
Wearing a full face, "Seinfeld"s puffy shirt, a naughty schoolgirl mini, lacy stockings and a pair of post-apocalyptic knee-high pirate boots, glam country darling Taylor Swift made her way to a fashion show in Milan on Monday.
New "Glee" Pics: Brittany as Britney
"Glee's" Britney Spears episode airs tonight -- and we're getting some serious VMA flashbacks from one of the new promo photos released from the episode.
In the new shot, Heather Morris mirrors Brit's infamous 2001 "Slave 4 U" look, complete with gold boots, blue shorts, green top and, of course, that giant python snake.
Click to gallery to see more -- including Morris in the red "Oops I Did It Again" catsuit and the nude "Toxic" bodysuit!
Check out the sneak peek of Morris and co-star Naya Rivera performing "Me Against the Music" too below!
Lindsay Lohan -- Return of the SCRAM
Lindsay Lohan has been reunited with her favorite accessory ... her SCRAM bracelet.
As we first reported, part of the conditions of Lindsay's bail is that she has to wear the bracelet again.
What's the Big Frigin' Difference?!
Give the following photos some extra special attention -- 'cause there are some super sneaky differences just waiting to be spotted!
**HINT -- There are THREE differences in the above photo!**
Can you guess which glam gal's face got a gnarly celebrity scramblin'?