Guess Who This Little Girl Turned Into!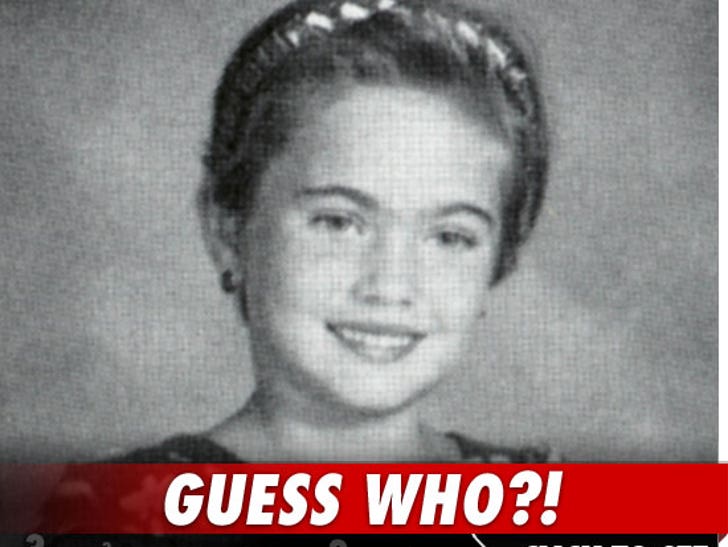 Before she was one of Hollywood's hottest stars -- she was just another kid growing up in Tennessee. Can you guess who she is?!
The Crazy Hat Train Rolls On!
The funky fascinators keep on coming in the UK -- where today, the rich British population really outdid themselves with hats featuring peacock feathers, butterflies and, most randomly of all, iPads!
All the above hats were spotted at the Royal Ascot Racegrounds for Day 2 of the races, where even Queen Elizabeth II stepped out with an over-the-top head-topper.
Air Guitar Championships -- Shredding with the Stars!
The greatest pretend musicians in all the land gathered in NYC yesterday for the 2011 Air Guitar Championships -- and what they lacked in instruments, they made up for in CRAZY!!!!
With classic power moves like the famous drop to the knees, teeth picking and even the behind the back -- it's obvious why these imaginary shredders made it to the top!
For those about to rock...
'Green Lantern' Premiere -- Family Time!
The "Green Lantern" premiere went down last night in Hollywood -- so who did stars Blake Lively and Ryan Reynolds bring as their dates? Their families!
Ryan, who was rumored to be dating model Agnes Fischer, and Blake, who has been seen holding hands with Leonardo DiCaprio, both arrived on the red carpets with their family members ... and not any significant others.
Summer's Beachin' Body Competition -- Vote!
Check out some beachin' celebrity doppelgangers -- and vote for which star you think owns the look!
'America's Got Talent' Winner Gets Married!
"America's Got Talent" winner Michael Grimm just hit another major milestone in his life: Getting married!
Grimm, who won the fifth season of the NBC reality competition, tied the knot to girlfriend of over three years Lucie Zolcerova in a gorgeous Maui wedding on June 1.
The two held the cermony on the beach at the Makena Resort in front of about 30 friends and family members.







Flea -- I'm Selling My Malibu Beach Pad
The AWESOME house that Red Hot Chili Peppers band member Flea owns out in Malibu is up for sale ... and it could be yours -- if you've got a spare $4.7 million to spare.
It's a massive property -- 2.4 acres -- and the structure is practically brand new ... because Flea had to rebuild the home after it burned down in the Malibu fires back in 2007.
Now, the new pad is pretty badass -- with 3 bedrooms, 3 bathrooms, crazy views and "mature trees" ... and there's nothing more bad ass than "mature trees."
Massive Riot Erupts in Vancouver After Stanley Cup
Things got downright violent in Vancouver last night -- when angry fans RIOTED IN THE STREETS after the Vancouver Canucks lost the Stanley Cup to the Boston Bruins in a 4-0 asskicking.
Cars were flipped and burned, windows smashed and stores were looted by drunk/angry hockey fans as police armed with pepper spray, tear gas and flash-bang grenades rushed to break it up.
Local law enforcement tells TMZ ... the situation is finally under control.
What's the Big Frigin' Difference?!
At first glance these photos may look identical... but don't be fooled -- 'cause there are some super sneaky differences just waiting for you to spot!
**HINT -- There are THREE differences in the above photographs!**