Bozo the Clown: 'Memba Him?!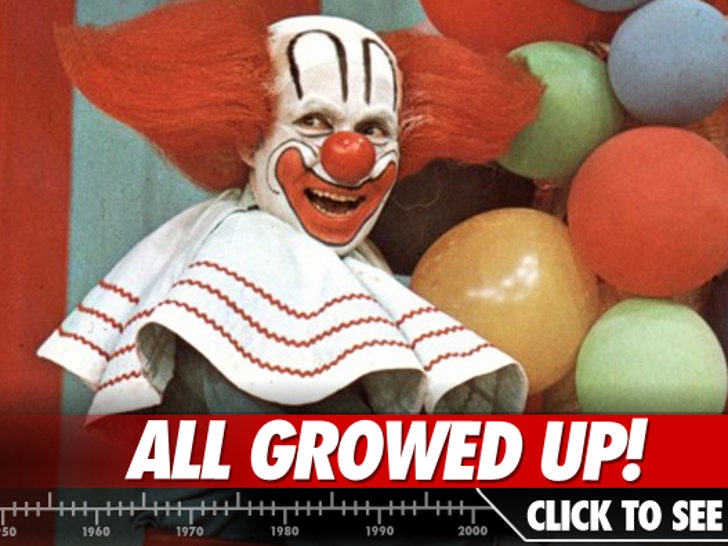 BET Awards -- Who Wore What?
Some of the biggest names in hip-hop and Hollywood hit up the BET Awards in Los Angeles -- check out what some of the stars wore on the green carpet!
Getting That Hollywood Glow -- VOTE!
While most celebrities like to have their day in the sun ... not all of them should. Check out these stars and tell us if you prefer them Snooki orange or Pattinson pale.
Stars & Their Cars -- Who Drives What?!
Check out our gallery of stars in their rides, from Kourtney Kardashian and Scott Disick in their Ferrari to Jessica Alba in her GMC Yukon -- these stars know how to ride in style!
Can you guess whose famous fuzzy face was given a silly celebrity scramblin'?
Kidman Steps Out with 6-Month-Old Daughter
Nicole Kidman returned to her hometown Sydney, Australia yesterday -- and she brought her two adorable daughters with her.
Kidman, 44, looked gorgeous in a trench coat and messy hair as she stepped off the plane, where she did gave paps a rare photo-op with newborn Faith, who turns 6 months old today,
Nicole and husband Keith Urban's other daughter, 3-year-old Sunday Rose, was with her as well.
Sometimes being a superstar can be a real drag -- see which stars have crossed over to the other side.
Paddle Boarding with the Stars
Check out which stars are stuck up creek with a paddle... board!
Leona Lewis -- My House is a STEAL at $2.5 MIL
Leona Lewis is saying goodbye to her L.A. home -- and since a lot of celebrity pads are going for TENS of millions ... Leona's is dirt cheap at a paltry $2.5 million.
The badass 3,946 square foot, Mediterranean-style home features 4 bedrooms, 4 bathrooms and a heated pool -- for those frigid few days when SoCal dips below 70 degrees.
And to give you an idea of the crazy L.A. housing market -- Leona's home is only 7.7 miles away from the legendary Spelling Manor ... which just sold for $85 MILLION.
What a difference a mile makes.