Alec Baldwin -- Threatens NYC Reporter ... 'You're As Dumb as You Look'
Alec Baldwin
Threatens NYC Reporter
'You're As Dumb as You Look'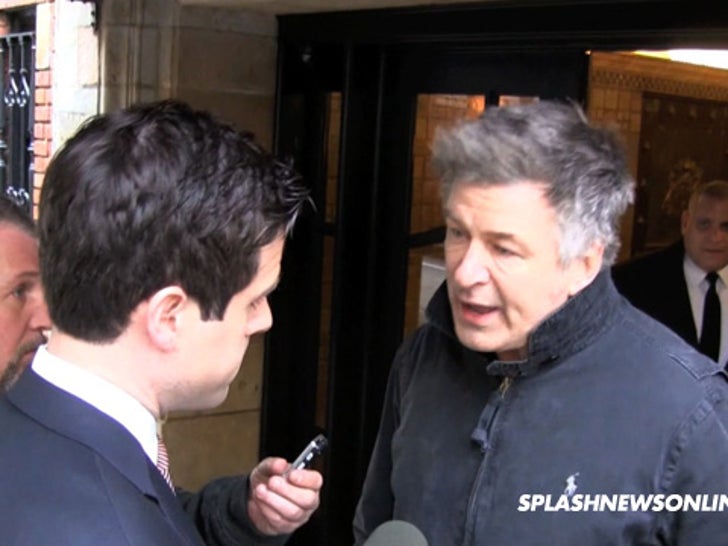 Another fun Alec Baldwin moment ... this time, the "30 Rock" star THREATENED a local news reporter ... and then called him ugly to boot.
Baldwin was walking back to his Manhattan apartment moments ago when he was approached by a reporter from FOX5 in NYC.
As the reporter tried to ask a question about the stalker case, Baldwin said, "If you're still here when my wife and kid come out, you're going to have a big problem, you know that don't ya?"
Alec turns to walk inside his building and throws out one last barb -- "You ARE as dumb as you look. You are with Fox, right?"
The Alec Baldwin meltdown continues -- the actor just shoved another photographer ... and then smacked a camera out of the guy's hand and once again, it was all caught on tape.
The footage begins near Alec's Manhattan apartment (after Alec's confrontation with a local news reporter) ... and shows Alec pushing a photog.
After the photog collects himself, Alec lunges back at him and smacks the camera out of his hand ... knocking it to the ground.
The photog goes back to Alec and says, "You shoved me into a car."Alec responds, "You tried to hit me with a camera."
Photog: "I didn't try to hit you with a camera."
Alec then tells the guy, "You take a walk ... you don't wanna get hurt, do ya?"
The photog backs down ... and Alec eventually ducks into a hair salon.
Alec Baldwin just got into his THIRD angry confrontation today -- screaming at a female reporter, demanding cops arrest her ... and then hitting a parked car while trying to drive away.
It's unclear exactly what set off Alec this time -- but his car was surrounded by reporters and photographers ... and he yells, "F**k you" to one reporter as he storms away and jumps in his car.
Watch the clip -- after the accident ... Alec wants cops to arrest the reporter he's got the beef with, but as far as we know no one was arrested.
12:15 PM PT -- Now we know why Alec went after the reporter ... his wife, Hilaria, dropped a dime. Watch this clip from FOX5 in NYC, at the very beginning you hear Hilaria say, "That's the one that almost hit me" -- and then Alec goes off.
FINE, I DID USE A HOMOPHOBIC SLUR
Alec Baldwin is finally admitting (and even apologizing) for spewing a homophobic slur at a photog in NYC yesterday ... but shockingly, the slur he's copping to is NOT the F-bomb.
Late last night, Baldwin went to Twitter and wrote, "Rich Ferraro from @glaad informs me that c'sucker is an anti-gay epithet. In which case I apologize and will retire it from my vocabulary."
Of course, Baldwin's referring to the incident outside of his Manhattan apartment ... when he called a photog a "c**ksucking f*g."
A rep for GLAAD has also issued a statement ... saying, "Mr. Baldwin can't lend his support for equality on paper, while degrading gay people in practice. It's clearly time he listens to the calls from so many LGBT people and allies to end this pattern of anti-gay slurs."
7:55 AM PT -- Anderson Cooper has also weighed in ... tweeting, "Wow, Alec Baldwin shows his true colors yet again. How is he going to lie and excuse his anti-gay slurs this time?"
He added, "Just read Alec Baldwin's latest excuses. They are actually so ridiculous they are funny."