Milo Yiannopoulos Files $10 Million Lawsuit Against Simon & Schuster for Pulling His Book
Milo Yiannopoulos
Suing Simon & Schuster for $10 Mil!
Says They Caved to Celebs
Milo Yiannopoulos is demanding 8-figures from publishing giant Simon & Schuster ... claiming it bowed to pressure from celebs like Sarah Silverman and Leslie Jones, and pulled the plug on his memoir.
Milo filed his lawsuit against Simon & Schuster Friday, saying he inked a lucrative deal with the company in December 2016 to publish, "Dangerous." It was a pretty sweet deal ... Milo says he scored a $255,000 advance, and Simon & Schuster embraced his public image as an "outspoken and controversial Breitbart columnist and blogger."
However, in the suit, Milo says the publisher got extremely cold feet immediately after allegations came out he condoned pedophilia. Milo resigned from Breitbart and two days later, he says Simon & Schuster told him his book was "unacceptable for publication." According to docs, obtained by TMZ, Milo's deal was terminated, but he was allowed to keep the $80k advance he'd already received.
Milo thinks the cash was an attempt to appease him and avoid a lawsuit.
The right-wing firebrand says he repeatedly denied the pedophilia allegation, but Simon & Schuster still caved when the public outcry began. Milo says 'SNL' star Leslie Jones accused the publisher of helping him spread hate speech. Sarah Silverman tweeted, "YUCK AND BOO AND GROSS" -- and Judd Apatow shamed the publisher for letting a "hatemonger" get rich off cruelty.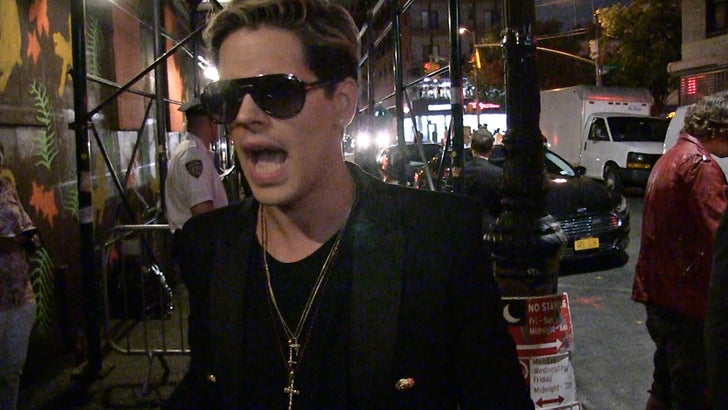 TMZ.com
Milo told us Thursday night he would be gunning for his former publisher, and now he's delivered. He says it breached its contract by bowing to public pressure, and pulling "Dangerous." He self-published it this week, but says Simon & Schuster severely damaged him to the tune of $10 million.
A Simon & Schuster spokesman tells us they believe the suit is "publicity driven and entirely without merit" ... and they expect to win the case in court.