Birkhead: I Tried to Save Anna Nicole
Larry Birkhead, who claims to be Anna Nicole Smith's real baby daddy, says he tried to save Anna Nicole from the ravages of drug addiction, and that seeing the ultrasound of his baby with Smith was "one of the happiest moments of my life." But Birkhead won't say anything about his last meeting with Anna Nicole -- because it could "come back to haunt" him later, he thinks.
In an interview with the New York Daily News, Birkhead claims that he tried to force Anna Nicole to kick her drug habits after she got pregnant with Dannielynn, but that his efforts just got him "pushed to the side," and that he had no control over what she did after that. Before that, however, Birkhead says that he and Anna Nicole shopped for baby clothes together and that Smith "made [him] sing to the baby at night."
Birkhead, according to the Daily News, wouldn't talk about his last meeting with Anna Nicole. He did admit to crying when he saw the birth certificate and saw Howard K. Stern's name on it, saying, "I don't know if I'm a dad or a sucker," according to a family member.
TMZ will have constant updates on the Anna Nicole story today.
Ivanka – Paris Bitchfight Brews
Ivanka Trump is slamming rival heiress Paris Hilton, saying that she works "13-hour days" for her riches, unlike "party kid" Hilton -- and doesn't want to be compared to the lodging heiress anymore. The Donald's daughter (seen here partying with Paris last summer) reportedly told the London Express (via MSNBC's Jeanette Walls) that she and Hilton are "totally different individuals ... I've never had a sense of entitlement." What's more, says Ivanka, "If I were to go off the rails ... I would not be able to afford my lifestyle." Ivanka also takes pains to point out that she had to buy her own house (from her father, of course), and that she has a mortgage. It is unclear whether Ms. Hilton has a mortgage as well, and she hasn't shot back as yet.
Paula Made to Look Less Lush-y on "Idol"
The producers of "American Idol" are doing everything they can to make Paula Abdul appear less loopy – or so they claim. As realitytvmagazine.com reports, the "Idol" producers are editing the show with the knowledge that Paula is being watched very carefully by viewers – to see if she'll betray any signs of being sauced. As executive producer Nigel Lythgoe put it, "We look when we're editing the show nowadays and say, 'Hey are people gong to think she's drunk for doing that?' We try and take that into account." Lythgoe adds that "it's very difficult" dealing with the Paula situation now that people have gotten it into their heads that Abdul is either boozing or popping pills, even though Paula has vigorously denied doing either.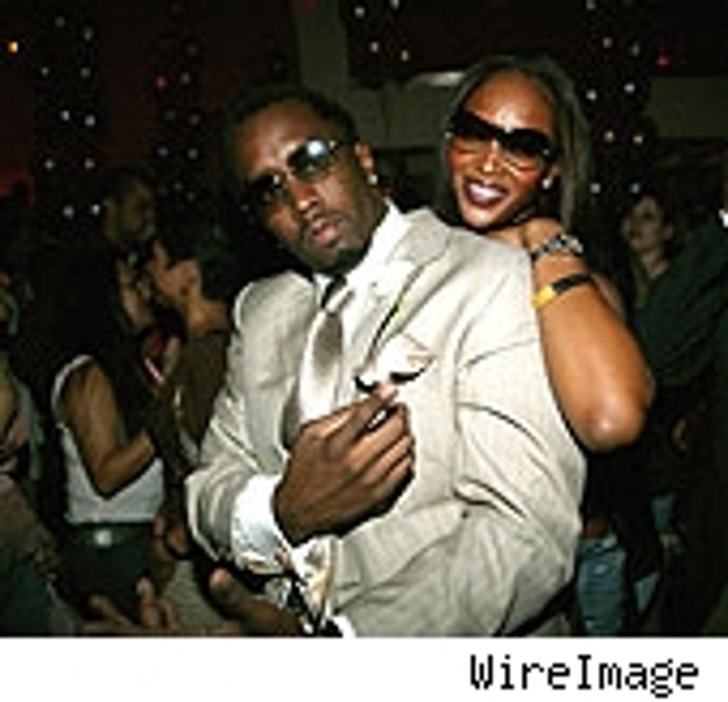 Diddy may want to consider protective headgear after he "angrily confronted" infamously projectile-prone Naomi Campbell at a Grammy after-party, according to Ben Widdicombe of the Daily News. According to Widdicombe's spy, "Diddy just started screaming at her when he saw her. No one could believe it. He was screaming obscenities at her" and at actor Terrence Howard, who was with her. Oddly, however, Naomi "played it totally cool." There's no specific reason for the origins of the tirade, except that Diddy's baby mama hates her.
Party Favors: Did Beyonce Snub Jennifer Hudson? ... Winslet Threatens to Sue Over Diet Claims ... J.Lo on "Entourage"?
Beyonce Knowles may have left Jennifer Hudson off of a guest list for a party she threw in L.A. after the Grammys, says Ben Widdicombe. "She doesn't want to look like she's slipping," says a source. ... Oscar nominee Kate Winslet is threatening to sue a British magazine over allegations that she's been seeing a diet specialist in L.A., says People. Winslet says the report is "completely untrue" and that she "never will" go to a diet doctor. ... The buzz is building that Jennifer Lopez will be the centerpiece of an episode of "Entourage" in the new season, says E! Online. Of course, the producers haven't actually approached J.Lo for the role, so it's not quite a done deal.