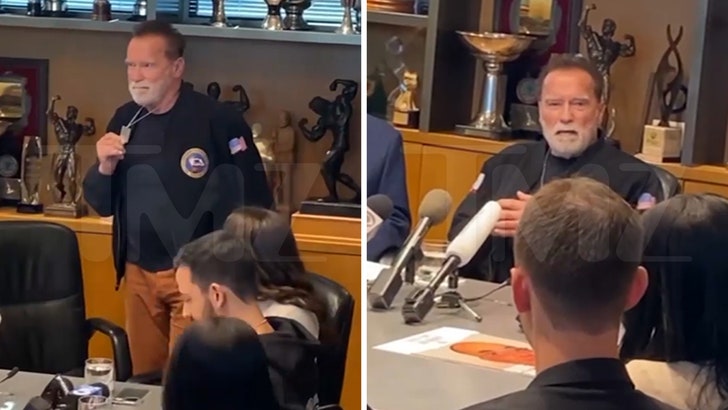 TMZ.com
Arnold Schwarzenegger is speaking out against the barbaric, unprovoked Hamas attack on Israel ... meeting with survivors and their families.
The former governor of California got emotional as he condemned the Oct. 7 slaughter of innocent civilians ... saying it's unlike anything he's ever seen and offering his support for Israel.
Arnold met with family members of Israeli hostages who are still being held by Hamas in Gaza .. presenting them with bronze eagle statues.
After the meeting, Arnold told us he's looking to spread peace ... because it's more powerful than hate and anger.
14-year-old Ella Shani was among the survivors traveling from Israel to Santa Monica to meet Arnold ... she recounted how her father was murdered on Oct. 7 by Hamas terrorists at Kibbutz Beeri, and how her 16-year-old cousin Amit Shani was kidnapped.
Ella says her cousin was hiding in a safe room in his home when Hamas set the place on fire and broke down the door. She says Amit and two other Israeli men from a neighboring house were ordered into a car, kidnapped and taken to Gaza.
As Ella spoke for about 30 minutes, Arnold teared up ... and they hugged in the end. He also showed her some of his cool movie memorabilia, like a robot head from 'Terminator.'
The meeting was organized by the Museum of Tolerance Jerusalem -- Arnold has partnered with the museum for years.