Heidi's New Show -- "Project Ripoff"?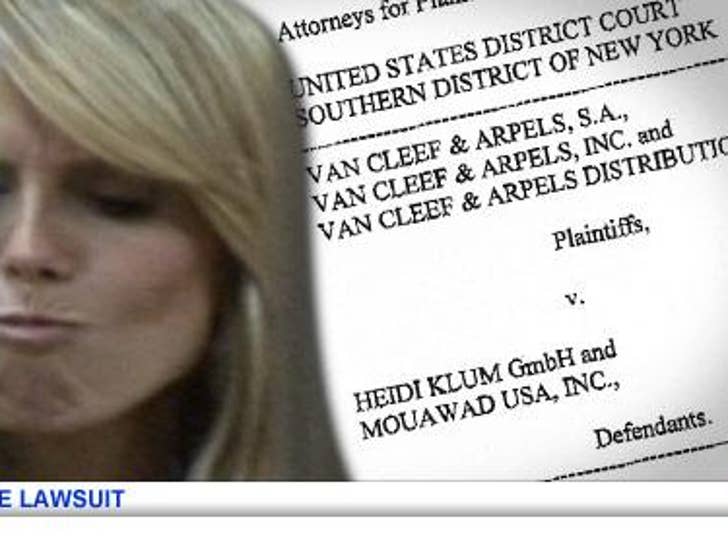 Luxury jewelry designer Van Cleef and Arpels is suing Heidi Klum, claiming that her jewelry company ripped off one of their vintage designs. Can they pin it on her?!

The suit, filed last week in Manhattan federal court, claims that Heidi Klum GmbH and Mouawad USA created and sold a similar clover design from Van Cleef's vintage Alhambra jewelry line. Wait, you can trademark a clover? Notre Dame better watch their back!
Van Cleef and Arpels allege the design is such an obvious copy that it creates "confusion in the marketplace." The lawsuit sites a New York Times article about the Alhambra line from October that says, "Heidi Klum appropriated the clover design for jewelry she designs for Mouawad."
Van Cleef and Arpels is suing for copyright infringement and is seeking damages in excess of $25,000. But that's not all! They want all the infringing goods turned over for destruction -- as well as all advertising materials, catalogs and circulars. Snap!
UPDATE: A rep for Mouawad tells TMZ: "The inspiration for Heidi's collection is the clover-patterned marble inlay at the Duomo Cathedral in Milan which dates back centuries before the formation of Van Cleef & Arpels. Their lawsuit has no merit whatsoever. A number of international houses such as Louis Vuitton, Cartier and now Chopard with their Happy Clover collection are all using their interpretation of the clover in their collections.
"Our collection is another interpretation of the clover motif. The clover as in a cross or heart is not a shape or symbol that anyone company can own. The clover has always been in fashion and it is a popular motif."