Stars Behaving Badly 2005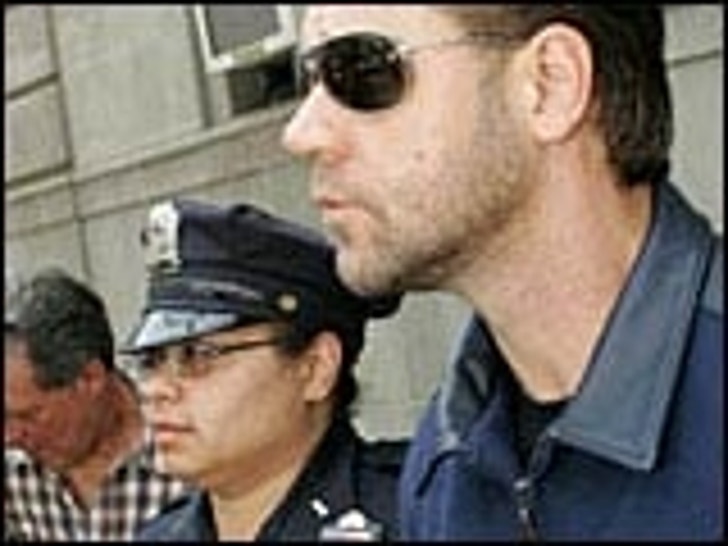 'Cause they can't all be Tom Hanks

By TMZ.COM STAFF
(Dec. 31) -- We're pretty sure that there were plenty of people who threw phones and drove drunk in 2005. But it's just more fun when famous people do those things.
So in keeping with that theory, let's take a look of the best celebrity run-ins with the law.
Russell Crowe: Reach Out and Touch Someone

When some people get mad at hotel employees, they might express their disdain by complaining to the manager, or perhaps by not tipping. Other people throw phones. Ok, maybe not a lot of other people. Ok, maybe just Russell Crowe.
In June, the Oscar-winning actor was staying at the Mercer Hotel in New York City when he became so angry about not being able to get a call through to his wife in Australia, he threw a phone at hotel concierge Nestor Estrada. According to the complaint, Crowe's toss hit Estrada in the face and caused "a laceration and substantial pain."
Crowe pled guilty to third-degree assault in November, admitting to a judge that he threw the phone. Crowe was sentenced to a conditional discharge, which means he must not get arrested for one year. We're guessing that's a good deal for Crowe, but the odds on him getting arrested are certainly higher for him than most Oscar-winning actors -- though we hear you don't want to get Roberto Benigni all riled up.
The incident dogged Russell for the rest of the year. He complained to Australian press that the media blew the incident "out of proportion," but then later joked about it at the Australian Film Industry Awards.
Maybe fatherhood will finally mellow Russell out.
Related links
Celeb Spotlight
Kate Moss: Hey, What's With the Camera?
Who knew that multi-million dollar companies frowned upon their spokespeople doing cocaine? While Kate Moss never actually admitted to drug use, the Daily Mirror published photos of the 31-year-old supermodel doing cocaine.
It didn't help her cause when the accompanying video made the Internet rounds -- not that we watched it or anything. Or downloaded it. Or e-mailed it to friends.
Moss lost modeling deals with Rimmel London, Burberry, H&M and Chanel. She later issued a statement that said in part, "I want to apologize to all of the people I have let down because of my behavior, which has reflected badly on my family, friends, co-workers, business associates and others."
But Moss proved you can never count a supermodel out. She has appeared on three magazine covers since the incident (W, Vanity Fair and Vogue), while filming a commercial for Virgin Mobile that poked fun at the incident.
Christian Slater: 'I Didn't Do Anything'
Let Slater's battle cry ring throughout the land! Christian was arrested on May 31 in Manhattan for allegedly sexually harassing a woman on the street. In this case, the alleged harassing was a butt grab.
Slater was arrested after the victim ID'd Christian later on at the scene of the crime. Slater cried out to anyone who listen, "I didn't do anything," while being led into the back of a squad car.
Christian held strong to his convictions and refused a plea bargain that called for him to plead guilty to second-degree harassment, rather than third-degree sexual abuse. The plan worked and a New York judge later agreed to dismiss the charges, provided Slater stays out of trouble for six months. (Crowe should have used his attorney.)
Michelle Rodriguez and Cynthia Watros: Don't They Watch 'Lost' in Hawaii?
Either they don't or the police force in Honolulu is controlled by The Others. How else can you explain two stars of the hit show, Michelle Rodriguez and Cynthia Watros, being arrested for drunk driving in Hawaii?
What makes it particularly interesting is that the pair wasn't even together; they were arrested in two separate incidents, 15 minutes apart! Seems like some folks were having a darn good time at the same party.
Both women failed field sobriety tests and were taken into custody. Rodriguez had a blood alcohol level of 0.145, nearly twice the legal limit of 0.08, according to documents obtained by KITV-TV, the ABC affiliate in Hawaii.
Apparently Rodriguez tried to play the "I'm on TV card" with police. "I don't (expletive) belong here!" KITV reported she said. "Why don't you just put a gun to my head and shoot me! You've already taken my freedom! You might as well take my life too!"
Rodriguez will apparently try and find the charges, while Watros will not. Rodriguez entered a "not guilty" plea through her lawyer on Dec. 29. Watros' attorney was granted a continuance of the arraignment to Jan. 12, when she will plead guilty and take "full responsibility."
Hopefully by then Watros will have settled her case and we'll all find out what the hell happened to Walt.
Chris Tucker: In a Hurry to Pray
And the Lord said, "Don't be late to church!"
Apparently we missed that sermon in bible study class -- but Chris Tucker didn't. The 'Rush Hour' star was arrested in Georgia in April for speeding. He was allegedly clocked doing 109 miles per hour in his 2005 Bentley. So where was Tucker in such a hurry to get to? Why, church services in South Carolina, of course.
According to cops, he was arrested for reckless driving and fleeing to elude after he did not pull over right away. The 32-year-old comedian told authorities that he didn't hear their sirens, presumably because the Lord was already talking his ear off.
Tucker released a statement to the television show 'Celebrity Justice' that said, "All I wanted to do is get to the 11 AM church services on time."
Tucker pled guilty to speeding and eluding police and paid a fine of $6,999. A small price to pay to stay in the good favor of the Lord.