Let's Get This Party Started: Top Stories for Thursday 06/15/06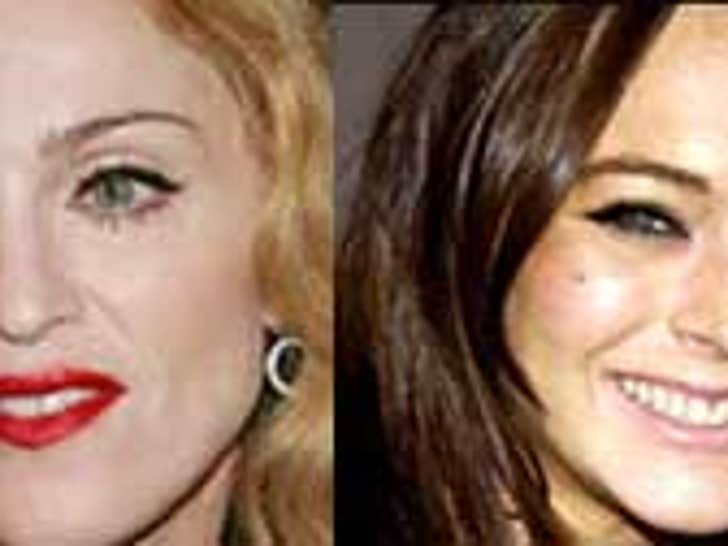 Not long after Madonna decided she'd had enough of being Britney Spears' mentor, she's found a new pet project: Lindsay Lohan.
Plus Jessica, Jacko, and other top stories.
Madonna Moves On to Lindsay
Not long after Madonna decided she'd had enough of being Britney Spears' mentor, she's found a new pet project: Lindsay Lohan.
The Material Girl recently ditched Britney, reportedly after the latter publicly disavowed her involvement in Madge's beloved Kabbalah, even asking for a wedding gift back. Now, according to In Touch Weekly via MSNBC's Jeanette Walls, Madonna has begun preaching the Kabbalah gospel to Lindsay, the two pop divas chat "a few times a week," and are planning "a spiritual journey" once Madonna's current tour ends. What's more, says the magazine, the pair are looking into partnering on film and movie projects.
Perhaps the Kabbalistic theodicy is making Lindsay a little more prudent in her social choices – one day after she walked away noiselessly from a potential catfight with Paris Hilton, Page Six reports that she turned down a round of shots from fans at New York's Da Silvano – where she also jawed with the paparazzi as captured on TMZ yesterday. "Don't they know I'm underage?" asked Lindsay of the shot-givers.
Jessica and Jared Get Cozy
A courtship appears to be starting between Jessica Simpson and Jared Leto, says PEOPLE in its new issue, and Lindsay Lohan is none too happy about it.
The actor, a former flame of Cameron Diaz' and Scarlett Johansson's, "chatted up" Simpson at LA hotspot Hyde almost two weeks, says the magazine, and then a few nights later met up with Jessica at New York celeb-boite Double Seven, where a witness says the two were "hanging all over each other."
The couple's flirtation hasn't sat well with Lohan, who co-starred with Leto and herself has been linked to the actor. "She feels betrayed," according to a PEOPLE source. On the other hand, the reps for all parties deny all the speculation.
Jacko Is His Own Best Charity
Michael Jackson may look as though he's completely lost his marbles, but he's certainly savvy enough to snag all the loot he can, even if it means keeping it away from a charity.
In depositions given last month in London for his upcoming trial with former associate Marc Schaffel, reports Fox News' Roger Friedman, the King of Pop revealed that he never intended to donate the rights to a single he had written for victims of September 11 – only the money from the sales of a CD. Thus, whereas all the other musicians and engineers on the project donated their time for a good cause, Jackson would keep all the songwriter's royalties from "What More Can I Give" for himself – potentially a very significant sum.
Friedman also reveals that the song wasn't even written for that occasion; Jackson had penned the tune well before September 2001, and was part of his master plan to "save the children." In any case, the single never got released, though Jackson has reaped the financial rewards of 1984's "We Are The World," which he co-wrote with Lionel Richie.
J.Lo Wedding Video Thief Pleads Guilty
A man who stole the video footage of Jennifer Lopez and Marc Anthony's wedding and then tried to squeeze $1 million out of the couple for its return plead guilty yesterday to attempted grand larceny.
Tito Moses admitted in Manhattan's state Supreme Court that he and an accomplice tried to extract a ransom for the video of the June 2004 wedding, which was on a laptop in Anthony's Cadillac Escalade, which itself was stolen in October 2005. The car was recovered but the laptop went missing.
Moses then called the Lopez-Anthony camp to try to sell the video; unlucky for him, the couple's "associate" turned out to be an undercover detective. Moses will serve up to 3 years for his plea.
Cristal No Longer Poppin' for Jay-Z
Jay-Z has taken bottles of high-end champagne Cristal off the menu at his 40/40 Club in New York after an executive with Cristal's producer turned up his nose at its association with hip-hop.
The rapper-mogul, who, along with just about every other hip-hop artist of any note, has worked celebratory mentions of Cristal into his rhymes, decided to boycott the bubbly after Frederic Rouzaud, managing director of Louis Roederer, told The Economist that he resented the "unwelcome attention" that hip-hop artists had brought his signature champagne. "I view his comments as racist," says Jay-Z in this morning's Rush and Molloy column, "and will no longer support any of his products through any of my various brands."
Spielberg Takes On New Dimensions for New Project
Though you might need a doctorate in astrophysics to comprehend it, Steven Spielberg is considering making an upcoming film about a group of explorers who travel into a so-called "worm hole" and into a new dimension.
The project, which Variety reports is in its initial stages, is based on a treatment by Caltech physicist Kip Thorne, who is an expert on relativity. Thorne is perhaps best known for his theory that wormholes exist, can be accessed, and can actually be used for time travel.
Spielberg is expected to direct the fourth "Indiana Jones" film or an Abraham Lincoln biopic for his next directing turn.
Ex-Presidents Make Good Dead Presidents
Former President Bill Clinton made $7.5 million last year, according to financial disclosure forms released yesterday for his wife, Sen. Hillary Clinton.
The considerable earnings were gleaned, according to the New York Daily News, from giving 43 speeches during the past year. His wife, between her Senate salary and royalties from her 1999 memoir "Living History," made more than $1 million herself.
The Daily News also reports in an accompanying story that the Donald was paid $1 million per hour by the Learning Annex last year for three speeches, and that Katie Couric gets $115,000 per speech.