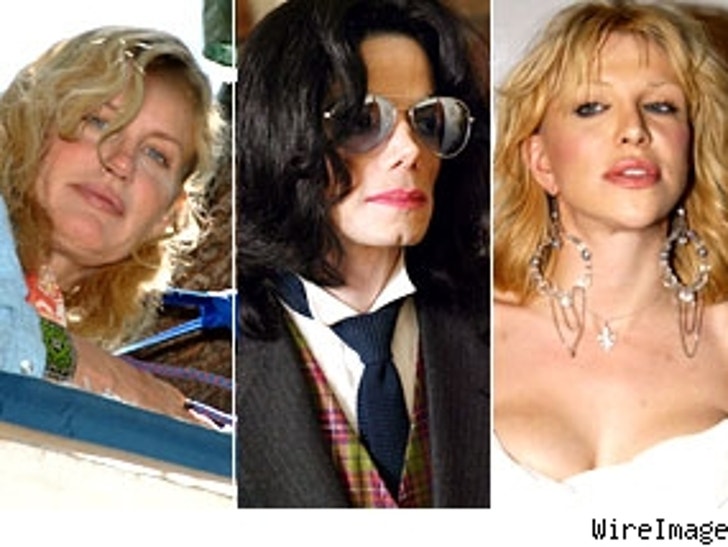 Unlike the guest list for a hot Hollywood party or nightclub, where VIP stands for "Very Important Person," the Z List is where you'll find celebrities relegated to the "Very Insignificant" roll call.
Here's a look at some of this week's prominent Z List VIP's.
Dan Rather: "Courage" is the word the CBS newsman once used to sign off his Evening News telecasts; "Dignity" might now be more appropriate. Despite the Tiffany Network (that's CBS for those of you under 34) showing him the same cold shoulder that propelled John Roberts to CNN, the 74-year-old Texan has remained entirely professional about the necessity of now exiting CBS before his contract is officially up in November. But with other unnamed TV opportunities on the horizon, we can't help but dredge up a Dan Rather-ism: "Don't bet the trailer money yet."
Daryl Hannah: The most telling thing about the three-week tree perch protest in South Central Los Angeles by this 45-year-old actress is that she had that big a block of free time to spare. It says more about the state of her career and mid-range female roles in Hollywood than it does about the importance of growing papayas and bananas in the hood. Hopefully, in between all the local TV news appearances, Hannah was on the cell phone to her agents and manager, asking, "What gives?!"
Michael Jackson: Just when you thought it couldn't get any worse, along come revelations this week via a deposition for next week's L.A. Superior Court trial that, for his planned 9/11 charity single "What More Can I Give," MJ planned to pocket the song royalties for himself (he currently also gets 50% of all "We Are the World" songwriting royalties). But on the "brighter day" side: when the Artist-formerly-known-as-the-Gloved-One was wheel-chaired around the Tuilleries Gardens in France this past weekend for a pajama photo opp, no one cared.
Courtney Love: Thanks to her sale this spring of a portion of Kurt Cobain's song catalog, Love helped the late singer rank second behind Elvis on this week's Forbes companion list of (Richest) Dead Celebrities. Still to come is Love's fall memoir, Dirty Blonde, in which she will further mine for profit the memories of her late hubby. Smells Like "Green" Spirit.
David Lynch: Finally, here's the celebrity marriage riddle of the week: How can you grind your way to "irreconcilable differences" after only a month of conjugal effort? Taking a page from the Robert Evans matrimonial play book, filmmaker-turned-website-entrepreneur Lynch filed for divorce this week from Mary Sweeney, the mother of his third child and editor of many of his films. Maybe they tried tying the knot simply for the sake of their teenage son Riley, or maybe it was just performance art. Where's Twin Peaks Special Agent Dale Cooper when you need him?