Let's Get This Party Started: Top Stories for Sunday 06/25/06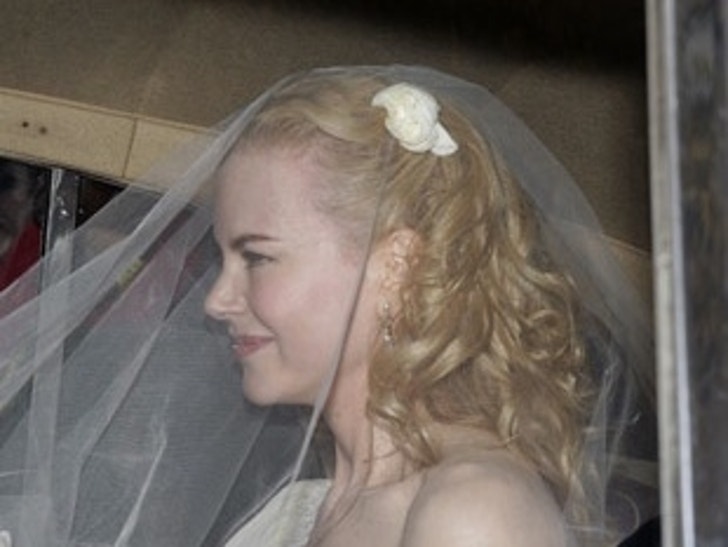 After all the rumors, speculation, precautions, and preparations, the day finally came – and went: Nicole Kidman and Keith Urban got married on Sunday in Australia.

The actress and the singer said their vows in front of guests including Russell Crowe, Naomi Watts, and Rupert Murdoch just after sundown Sunday night at the Cardinal Cerretti Memorial Chapel outside of Sydney.
The entire ceremony was lit by candles, according to PEOPLE magazine, and Nicole's bridesmaids were her sister Antonia and daughter Isabella, while Keith's brother Shane and longtime friend Marlon Holden were the country crooner's groomsmen.
Kidman's dress was designed by Nicolas Ghesquiere for Balenciaga, and she kept her veil on in the traditional manner during the ceremony, lifting it only when the vows were said. "When her veil was lifted, he moved right in and he grabbed her and kissed her," says a guest to PEOPLE. "Then everything went from being quiet and elegant and intense to really loud, like we were suddenly at a soccer game."
Hugh Jackman and Crowded House's Neil Finn performed at the reception, where the color red was apparently the theme – carnations hung from chandeliers and roses sat on the tables. The couple released a statement on Sunday night that said: "We just want to thank everyone in Australia and around the world who have sent us their warm wishes."
Marcia Cross Gets Married, Too
On a slightly different scale, another alabaster-complexioned, flame-haired actress tied the knot over the weekend as "Desperate Housewives" star Marcia Cross married Tom Mahoney, who is not a country singer but a stockbroker, according to Us Weekly. The ceremony took place at the Church of Our Savior Episcopal Parish in San Gabriel, California, and guests included Eva Longoria, Felicity Huffman, and William H. Macy.
Cross' dress was designed by Reem Acra and she carried a bouquet of white peonies and white roses. The reception was held in two ballrooms at the The Ritz-Carlton in Pasadena, where the theme, like Marcia's flowers, was white. This is the first marriage for both Cross and Mahoney and, says Us, they met at a flower shop, so perhaps it's appropriate that they spent their first night as a married couple in the Ritz's Tournament of Roses suite.
Tori Spelling Reconciled With Dad, She Says
Actress Tori Spelling says that she was able to make peace with her father, television giant Aaron Spelling, before he died on Friday from complications from a stroke at the age of 83, according to PEOPLE.
"I'm grateful I recently had the opportunity to reconcile with my father and most grateful we had the chance to tell each other we loved one another before he passed away," she said in a statement. "It's a true blessing to have had a parent that loved me unconditionally. He had a heart as big as his talent and today, along with many others, I mourn his loss."
Britney's Damage Control After "Dateline" Debacle
Apparently Britney Spears realized that wearing a jarringly skimpy outfit and chewing gum continuously during a nationally televised interview in prime time was a bad idea, because she tried to do a little image-resuscitation in the days following her disastrous interview with Matt Lauer on NBC's "Dateline," according to today's Page Six.
And even though she called the celeb tabloids "trash" and complained about not having enough privacy, she had photos taken of herself in somewhat more flattering clothing and with more refined hair and makeup -- and then tried to shop them to those very same "trash" tabloids for $200,000, says Page Six. OK! magazine finally snapped them up, but at the low, low price of $5,000, prompting the mag's rep, who didn't confirm the price, to say, "Who doesn't love a discount?"
Soprano Kids Do Their Own Collections
Meadow and AJ Soprano – or the actors who play them on HBO's "The Sopranos" – won't be begging their parents for cash anytime soon, as both Jamie-Lynn Sigler and Robert Iler are close to signing deals that will pay them more than $100,000 per episode for the final eight shows that are about to start shooting and that will run sometime next year on HBO, reports the New York Post.
That represents a raise of about $15,000 for each of them, and more than Tony Sirico (Paulie) and Steven Van Zandt (Silvio) made last year as well. The two family lieutenants are still far away from closing their deals, as sources say that HBO is offering $115,000 while Sirico and Van Zandt want $200,000. Meanwhile, Lorraine Bracco (Dr. Melfi) and Steven Schirripa (Bobby Bacala) continue their negotiations.
Backstreet's Oldest A Boy No more
The eldest of the five Backstreet Boys has decided to leave the band to – what else? – "pursue other interests." According to a statement on the group's official site, Kevin Richardson, 33, is taking his leave and won't be involved in the follow-up album to last year's "Never Gone."
Richardson said that the decision was difficult but "was necessary in order to move on with the next chapter of my life," but didn't specify what that next chapter might involve. His bandmates – AJ McLean, Nick Carter, Howie Dorough, and Brian Littrell -- didn't kick Richardson to the curb exactly, saying, "The door will always be open for him to return to the Backstreet Boys." Do we smell a triumphant return down the road?