Lindsay on Sex, Paris, Those Late Nights and... Iraq!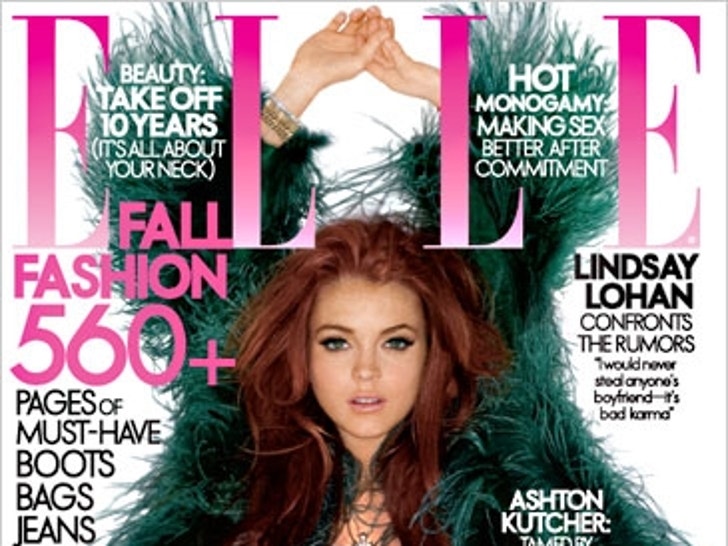 Lindsay Lohan gives a raw and uncensored interview in the new issue of Elle magazine.

The tabloid princess, who has been linked to a rotating roster of young Hollywood men, reveals, "I don't want to put myself in a monogamous relationship right now. I'm not dating just one person." Hopefully this isn't news to Harry Morton.
The single starlet goes on to say, "...if the sex is bad, the relationship's not going anywhere."
One relationship that isn't going anywhere is her much-publicized feud with Paris Hilton. Lindsay insists that she hasn't seen the infamous Brandon Davis "firecrotch" tirade video featuring Paris and lashes out against the hotel heiress saying, "Obviously, she's very comfortable making videos, " an evident reference to a certain homemade X-rated Hilton film that made the rounds a few years back. Maybe you've heard of it?
La Lohan's late-night antics have also come under much scrutiny ever since the CEO of the production company of her latest film, "Georgia Rule," issued a letter lambasting her on-set absences due to what he said was her "heavy partying."

But Lindsay insists, "I can handle later hours! And I have a rule: I have to be home before the sun comes up or I start panicking. Unless it's, like, your birthday or whatever." Looks like "whatever" to Lohan means weekdays.
As far as what the future holds, the "Mean Girls" star says she wants to emulate Marilyn Monroe and go to Iraq (with Hillary Clinton!) to shock and awe the troops.
Lohan admires Monroe because she's "this beautiful sex kitten, who's basically a pinup, which is what I've always wanted to be." To that we say: Mission accomplished!
Check out the entire candid interview in the September issue of Elle on newsstands now.