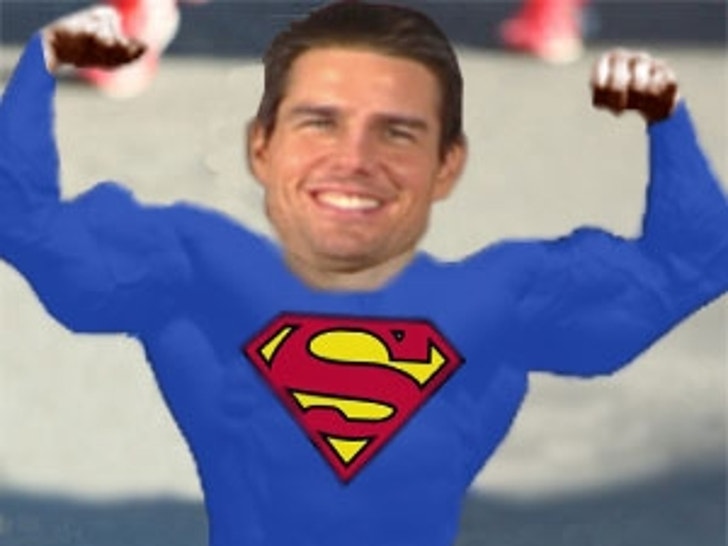 After Cruise and fiancée Katie Holmes gave an assist to a car accident victim last Saturday on a Los Angeles freeway, it's now time to anoint the "Mission Impossible" star with superhero status. You see for Cruise, saving people from distress isn't reserved for just the big screen. Over the years, Tom has used a multitude of superpowers to help those in need.
Super Agility
In 1996, Cruise wasn't involved in just one perilous situation, but three! In March, he came to the aid of a hit-and-run victim in Los Angeles, summoning an ambulance, following her to the hospital and then paying her $7,000 emergency-room bill. "If he's not Superman," Heloisa Vinhas told PEOPLE, "he can be Batman."
Super Sight
Then in August, while sailing the Mediterranean off the island of Capri, Cruise, with wife-at-the-time Nicole Kidman, spotted a sailboat on fire and its five passengers floating on a raft nearby. Cruise immediately sent over his yacht's skiff -- arriving shortly before the sailboat sank. After the incident, Cruise's publicist at the time proclaimed, "If I ever get in trouble, I hope Tom Cruise is nearby." Note to publicist -- the yacht staff also comes in handy.
Super Strength
Later that year, at the British premiere of the first "Mission Impossible," Cruise spotted two young boys getting crushed against barricades by the crowd. Cruise lifted Laurence Sadler, 7, and Christos Tzanetis, 13, to safety. "We are very grateful to Tom," one of the boys' mother said afterwards.
Super Speed
In 1998, Tom rushed to the aid of a woman being mugged in London. The woman in peril, who could have lost nearly $150,000 in jewels, told a local paper after the incident, "Tom was brilliant. He rushed down the road with his bodyguards and chased the attackers away."
So the next time you find yourself in a life-and-death predicament, before you dial 911, perhaps you should look around -- Cruise could be lurking about to save the day.