Hollywood's Favorite Soap: 'Search' for Tomorrow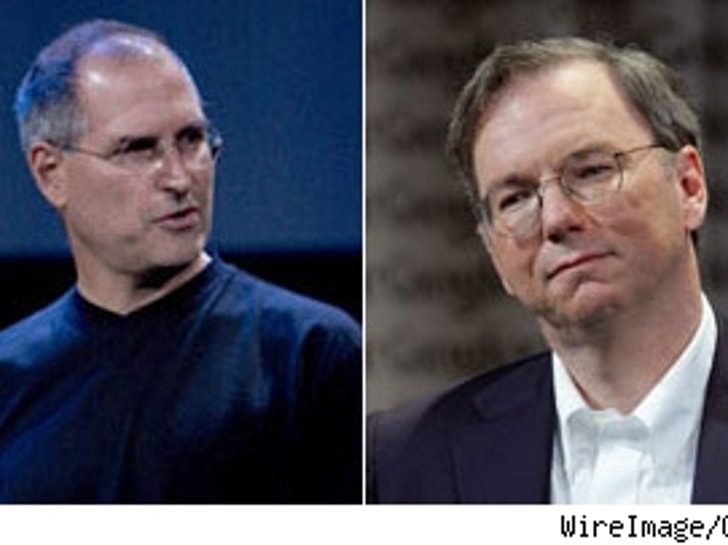 We can't help but notice two interesting pieces online today that underscore how dismally Hollywood has (mis)managed its presence on the Web.
The first, of course, is a piece in "The New York Times" about Google CEO Eric Schmidt's recent snuggle-fest with Apple's Steve Jobs, and Schmidt's resultant seat on Apple's board - and why it should freak Hollywood out.
Writes the NYT's John Markoff ,
"Mr. Schmidt's appointment set off chatter about linking the Google search engine to iTunes, Apple's online music service - reinforcing Apple's pre-eminence in a category where Microsoft is seeking a grip. That would also have broader implications for the entertainment industry, an industry repeatedly put on the defensive by both Apple and Google. 'The studios, and for that matter, all the copyright owners, don't want to see only one place become their sole retail outlet - whether it is Google or Apple or Sony ,' said William Randolph Hearst III, a veteran Silicon Valley executive and investor."
Of course, there are two areas on the Web in which piles of cash can be readily made: Search, and sales. Hollywood has managed to do poorly in both.
Just take a look at the studios rather pathetic efforts in sales: A bitter feud between the new Blu-ray and HD-DVD formats has consumers justifiably jittery about whether they're buying the 2006 version of the Betamax.
And online, the studios super-lame Movielink.com - meant to be the iTunes of downloadable movies - doesn't even support Mac. Splendid, fellas. What a great way to connect with the kids.
Which brings us to the second area, and the second piece: Search.
In today's edition of "The Wall Street Journal," the Heard on the Street column takes a look at ex-Vivendi / Universal bigshot Barry Diller's recent epiphany: Without a major online search portal, you're doomed to be a laggard online.
"To be sure, at this point [Diller's InterActiveCorp] can only dream of duplicating the success of [Google and Yahoo!]. Ask .com is fifth in Internet searches with a 5.4% market share, compared with 43.7% for Google and 28.8% for Yahoo, according to comScore Networks Inc.
Which brings us back full circle to why Hollywood is so nervous about the current Apple-Google chumminess: A shocking 44% of all internet searches are done with Google. Nearly 80% of all online music is sold via Apple's iTunes.
As iTunes delves more and more into video iTunes sales, and Google gets even friendlier with Apple, none of this looks particularly good news for the Hollywood congloms.
Meanwhile, while Hollywood sits around wondering 'Where did we go wrong?,' the Web itself is figuring out how to spread video everywhere, for free: News broke yesterday on Wired.com's Cult of Mac blog that a new bit of software called "TubeSock" has been invented to allow the transfer of video from YouTube directly to Apple's video iPods - to the horror of TV network and studio suits everywhere, no doubt.
As Wired's bloggers Leander Kahney and Pete Mortensen put it, "YouTube has dodged much of the wrath of the media conglomerates up to this point, in large part because of the strong measures it has instituted to prevent and remove copyrighted content. Add in a flash video format with no simple way to download the content locally, it's been a media darling."
Well, that dam just broke.
So: Have a nice, restful Labor Day, Hollywood - you've clearly got a lot of work to do come fall.