Brangelina Cause Near-Riot on Rickshaw Ride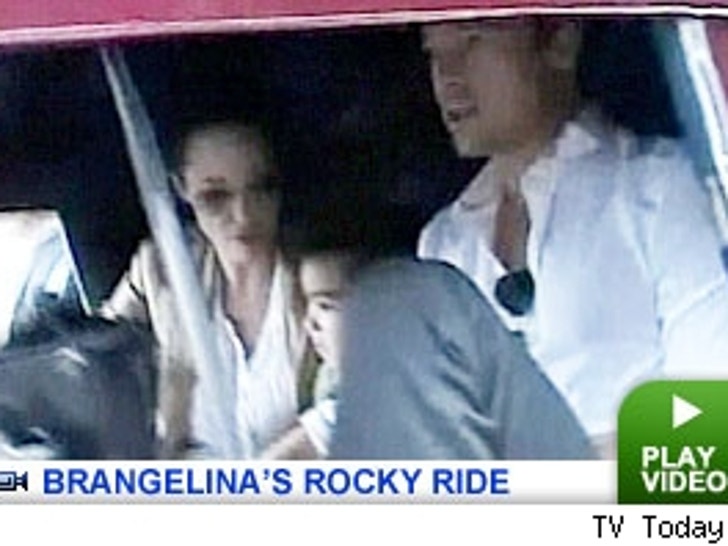 The couple decided to take 5-year-old son Maddox out for a little ride into town, except that, this being India, a massive throng of fans, photographers, cameramen, and reporters surrounded their little rickshaw every time they stopped, and a security detail in the rickshaw behind had to jump out just to keep the hordes at bay.
It all got a bit too much for the Jolie-Pitts, as they had to cut their ride short after 20 minutes. No word on their destination, but the couple is in town to shoot scenes for "A Mighty Heart," which Pitt is producing and Jolie is starring in.
Anna Nicole Residency-Buying Charges as Son is Mourned
Native Bahamians are up in arms about the speed with which Anna Nicole Smith obtained residency in the island – and they're accusing her of paying off the immigration minister with a $10,000 check to fast-track her application.
The Bahaman Free National Movement is claiming, as MSNBC reports, that Smith was given her residency in three weeks, which is much shorter than usual, though Shane Gibson, the immigration minister, says that it actually took three months. Gibson doesn't deny that, whatever the actual duration, "this one was done very quickly," and he says that there was once a "Czech financier" in 1995 who had his application approved in just over two months.
Meanwhile, amidst all the sordidness, Anna Nicole's late son Daniel Smith, whose body is still in the Bahamas, was remembered at a ceremony on Saturday at the First Baptist Church in his hometown of Mexia, Tex., where Daniel's father, Billy Smith, still lives. Relatives, who had not seen the boy in years, recalled their interactions with Daniel, especially his love for the Teenage Mutant Ninja Turtles.
"Departed" Arrives As Scorsese's Biggest Opening Ever
The cop drama "The Departed," starring Leonardo DiCaprio, Matt Damon, and Jack Nicholson, took the box office crown this weekend with just over $27 million, making it director Martin Scorsese's biggest opening by far. "Cape Fear," the 1991 film starring Robert De Niro, scored $10 million in its debut.
Jessica Simpson and Dane Cook didn't fare so well with "Employee of the Month," which came in third with an $11.8 million debut, while the latest "Texas Chainsaw Massacre" installment shocked audiences into shelling out $19.1 million in its opening frame.

Party Favors: Wynn Tears $140 Million Picasso, Rapper Jadakiss Arrested on Gun Charge
Hotel king Steve Wynn may have put his elbow through an incredibly expensive Picasso that he had sold to a billionaire fund manager. According to Page Six sources, the casino mogul was hosting a cocktail party at the Wynn Las Vegas when he accidentally put a tear in a Picasso painting "from the Blue period," worth almost $140 million. "I'm glad that was me," Wynn supposedly told his guests, including Barbara Walters and Nora Ephron ... Rapper Jadakiss, whose real name is Jason Phillips, was arrested Saturday at a traffic stop in New York on suspicion of a weapons possession. In 2004, the rapper, who has performed with Mariah Carey and Jennifer Lopez among others, was arrested on weapons possession charges in North Carolina, on which he reached a plea agreement.