Oxy-Moron Limbaugh and Fox Ignite Stem Debate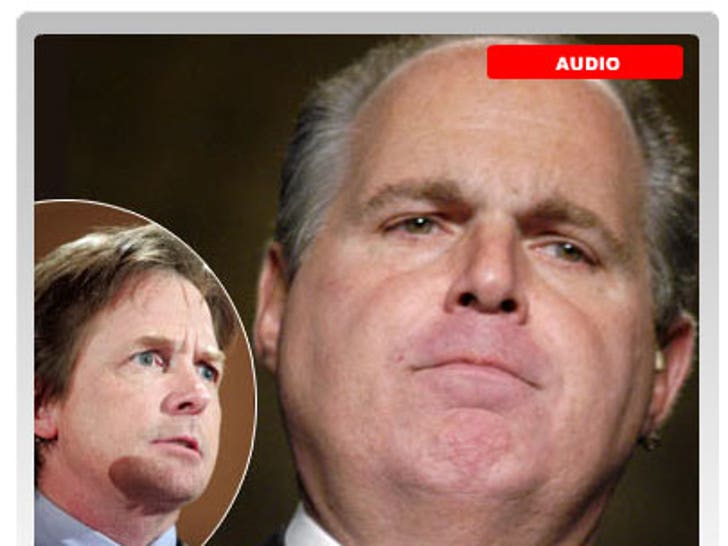 Pill-popping conservative talk show host Rush Limbaugh blasted Michael J. Fox recently for a political ad in which Fox supports stem-cell research. And now, right-wing cronies, celebrities, and even Jesus are taking sides against Fox and his position.

In Fox's ad, supporting Missouri Senate candidate Claire McCaskill (and other pro-stem-cell candidates), he sways and jerks uncontrollably, visible symptoms of his Parkinson's Disease. Limbaugh criticized Fox's spot as "purely an act," a remark for which he received a swift and vociferous backlash. (Limbaugh subsequently apologized.)
But today, on "Good Morning America," fellow right-wing lip-flapper Sean Hannity came to Limbaugh's defense, saying that Fox had a right to be criticized. (The National Parkinson's Foundation, in a statement issued to TMZ, explains that Fox's symptoms are actually the result of taking medication and that not taking meds would result in stiffness.)
And, in an ad airing during tonight's Game 4 of baseball's World Series, "Everybody Loves Raymond's" Patricia Heaton, Jim Caviezel (who played Jesus Christ in "The Passion of the Christ" and applies some Aramaic to his message here), and several pro athletes urge viewers to vote against Missouri's Amendment Two, which would provide constitutional protections against embryonic stem cell research.