Brangelina's Wild Ride in Vietnam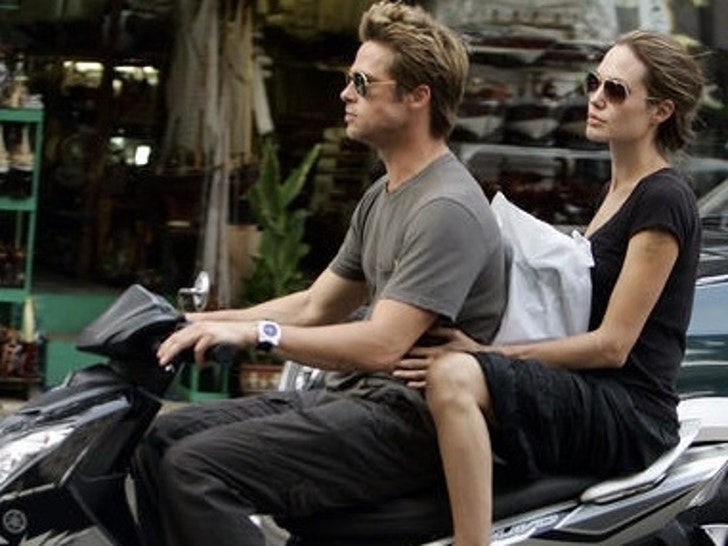 Brad Pitt and Angelina Jolie traded turkey for pho yesterday as they made a surprise visit to the capital city of Vietnam. But the parents of three –- and no doubt more – made things a little more interesting by cruising around Ho Chi Minh City on a motorbike, but sans protective headgear, if this photo is to be believed.

The couple swooped into Vietnam after a visit last week to Cambodia, where their adopted son Maddox was born. After their two-wheeled tour of the city, Brangelina dined on the native cuisine at a popular restaurant converted from an old temple. When asked by a reporter from a local newspaper about navigating the crazy streets of the old Saigon, Pitt replied, "There will be no problem."
Foxy Brown Bitches Out, Disses Jay-Z
Foxy Brown, never the world's foremost diplomat, burned bridges with her old record label (and its powerful honchos) during a recent radio interview and then got so obnoxious with her hosts that they had her tossed out of the studio. Page Six reports that during an interview with Power 105.1 radio in New York, the sassy rapper wouldn't acknowledge that she'd been dropped by Island/Def Jam records or that Jay-Z was upset over her lack of productivity in the studio. Upon further questioning, Brown blurted out, "What people don't know is that I initiated Def Jam ... they could never drop me. I am a multiplatinum artist." Then, when asked about the manicurist-assaulting charges on which she was convicted, Brown balked – and host Egypt wasn't having any more of Brown's 'tude, and threw her out of the studio.
Famous Kazakh to Borat: "I Like!"
Finally there's someone from Kazakhstan who actually likes Borat. A leading writer, Sapabek Asip-uly, has nominated actor and "Borat" creator Sacha Baron Cohen for a national award on Thursday, saying that the goofy, mustachioed fake-journalist has "managed to spark an immense interest of the whole world in Kazakhstan, something our authorities could not do during the years of independence." (Our thoughts exactly, Mr. Asip-uly.) And the novelist adds that if state officials can't laugh at themselves (and the fermented horse urine they drink and the young women they force into prostitution in their early teens, as Borat would say), then Kazakhstan "becomes a laughing stock."

Party Favors: Klum Child Has Enough Names for Entire Jolie-Pitt Family ... Brando Eats Powdered WHAT? ... Leo's Mom Stil Loves Gisele
Heidi Klum gave birth to her second son with singer Seal, a tot named Johan Riley Fyodor Taiwo Samuel, on Tuesday, reports Planet Gossip's Marc Malkin. According to Klum's official website, the baby was 8 lbs 11 ounces, and is "healthy, beautiful, and looks just like his mother." ... Charlie Sheen is auctioning off a letter Marlon Brando sent to him when Brando had to miss his 26th birthday party, and it's a doozy, reports Ben Widdicombe. "I'm feeling like a very large turd on a very thin stick ... I'm holed up in bed and taking everything from sled dog urine to powdered East Indian vulva." Even from the grave, Brando manages to shock ... Leonardo DiCaprio may have moved on from Gisele Bundchen, but his mom, if Page Six is to be believed, has not. After the Victoria's Secret show in L.A., Mrs. D and Gisele walked a dog the ex-couple shared.