Is Beckham Worth the Big Bucks?
Is Beckham
Worth the Big Bucks?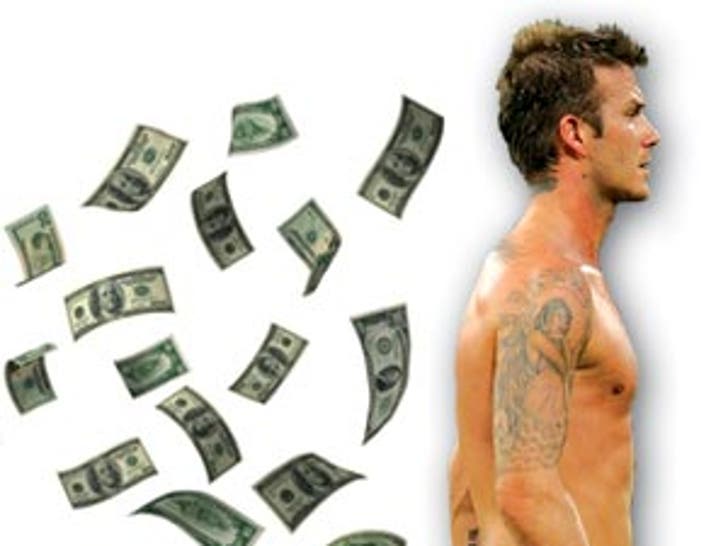 David Beckham just scored the biggest payday in sports history -- $250 million over five years -- but will he measure up?

TMZ did some number-crunching, and that's a lot of money by any measure, but especially so when you consider that's almost more than the other 200-plus players in the league will make next year -- combined. His yearly take -- about $50 million -- would be more than five major league baseball teams' entire salary load for 2006, and more than at least one NHL team. Even Michael Jordan, who played his last season in '98 for the Chicago Bulls at the then-astronomical salary of $30 million, doesn't come close.
Anschutz Entertainment Group, owners of the L.A. Galaxy, is shelling out most of Beckham's package. They report that since this morning's announcement, they've already sold 1,000 season tickets. We're also told that Major League Soccer thinks it'll sell out Galaxy tickets for the season -- in just 30 days.
Finally, sports-biz guru Dr. G. Lynn Lashbrook, president of Sports Management Worldwide, tells TMZ that the crazy cash the L.A. Galaxy will be shelling out is possible only because MLS has begun selling ads on the front of players' shirts, commonplace elsewhere in the world, but a first here in the U.S. Another sports marketing expert, Dean Bonham, tells us, "At the end of the contract, this will be seen as one of the most important investments in sports history." Beckham has not stated what Posh's wardrobe allowance will be.