Shanna Moakler to Paris & Lindsay: I Got Your Number!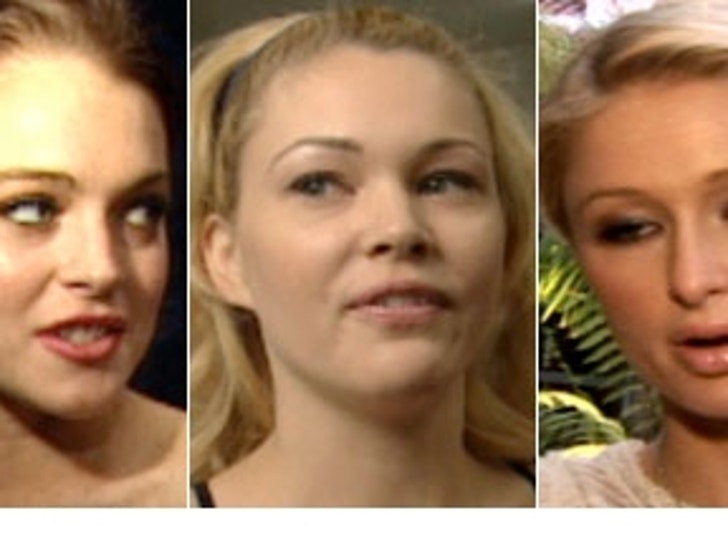 You want to keep Shanna Moakler on your friends list ... or she'll publicize your digits!

An angry Shanna Moakler posted contact info for Paris Hilton and Lindsay Lohan on her MySpace blog over the weekend! Shanna's swipe at the two starlets was a response to a blog posted on Harry Morton's MySpace, which gave out Shanna's contact info. Morton is Lohan's ex. Moakler believes that one of the girls is running Harry's page, and that the hard-partying starlets hacked into Shanna's phone and MySpace.
In her latest blog, Shanna says, "I know for a fact he (Harry) does NOT have a MySpace account," and that she stands behind her various reasons for revealing Paris and Lilo's info.
Although Shanna thought she had the last laugh, a spokesperson for Lindsay told TMZ, "Those are not her e-mail addresses."
As for Paris, rep Elliot Mintz had this to say when contacted by TMZ today: "It appears to me that this woman is simply desperate for press and attention. The facts are simple. Shanna deliberately posted Paris' phone number and email address on her MySpace site. It was an unprovoked invasion upon Paris' privacy which caused her to immediately change her contact information. It was a childish, mean-spirited thing to do and we are not going to dignify such an action with any additional comment."
A rep for Shanna said "Shanna had valid reasons for her actions and she stands by every one of them. She's lost her tolerance for childish games played at her expense and the expense of others for the amusement of bored children. Shanna is at work on her new series for the CW and frankly doesn't have the inclination to spend more time on this matter.