Is Broadway the "American Idol" Graveyard?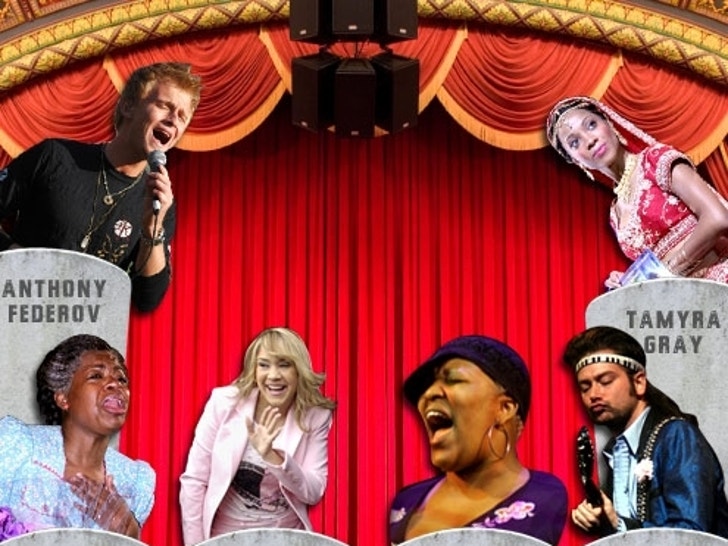 The Great White Way is riddled with the discarded musical corpses of former "American Idol" wannabeens of yore.

As of May 29, Season One finalist Tamyra Gray will join the cast of "Rent" (she previously starred in "Bombay Dreams"), and simultaneously, rejoins the club of former "A.I." contestants who have been making ends meet on Broadway. It's not a J.Hud Oscar but it beats the late shift at Applebees!
Other contest losers trading Hollywood dollar bills for Playbills include: Season Two's impeached diva Frenchie Davis, who has been performing in "Rent" off and on for four years, Season Four's creepy crooner Constantine Maroulis, who hammed it up in "The Wedding Singer" last year, and Anthony Federov (memba him?), who just this month joined the revival of long-time hit, "The Fantasticks." While Diana Degarmo, who came in second on Season Three, took a break from her soccer-mom 'do and non-existent record sales to don a beehive in "Hairspray."
Even Fanatasia Barrino, who actually won "Idol" and at one time sold millions of records, has hit the NYC stage. To her defense, Miss B. has been getting rave reviews and selling out the house as Miss Celie in Oprah's production of "The Color Purple."
So while America may have become immune to the McPheever ("Over It," anyone?), you never know, she may just turn up on Broadway -- in "Kats."