My Big Fat French Wedding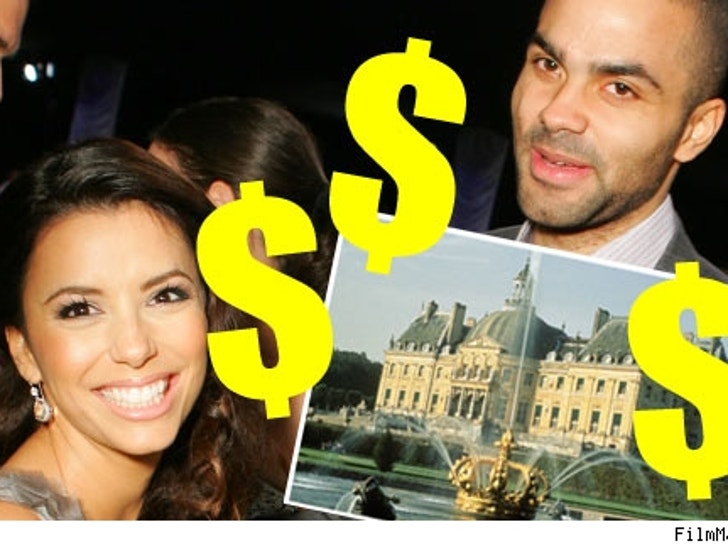 There's nothing desperate about Eva Longoria & Tony Parker's wedding this weekend in Paris. Rumors are that the pint-sized beauty's $30,000 wedding cake was going to be made by chef Sam Godfrey of Perfect Endings, who made the cake for Oprah's 50th. Rather than fly the cake from Napa Valley to Paris, Tony put his spur down and demanded the cake be made in France! Enough dough!

The reception will be held at the Chateau de Vaux-le-Vicomte, which rents for the princely sum of $50,000 -- for just five hours! What if the couple wants to party all night? That'll cost 'em extra. Although it appears that the newlyweds needn't worry about cost -- TMZ has confirmed OK! magazine is paying $2 million for exclusive wedding pics that include the honeymoon. Cha-ching!
VIP wedding guests Felicity Huffman, Teri Hatcher and Mario Lopez are jetting to France aboard a private plane chartered by Eva and Tony. We checked with Luxury Air Jets (not the one Eva used) to find out what that would cost, and they told us that a similar plane to a 757 would cost upwards of $165,000 -- each way -- not including food!
The couple registered at Tiffany for items ranging from a silver scalloped bowl -- for the bargain price of $1500 -- to silver swizzle sticks for $100. Keepin' it simple.
Celebrity wedding planner Lisa Vorce of Oh, How Charming! has planned numerous celeb nuptials, including actress Jeri Ryan's, which was also in France. She says, "The average person can dream of things like wearing custom couture, riding in a vintage Rolls Royce to the Oscars, and drinking the finest champagne -- for some celebrities, these great parties and the fine food and wine are way of life. Nothing seems outrageous to me in the celeb wedding world. If they want a $30,000 cake, then get them one!"
Eva and Tony did get one break when Longoria's mane man, Ken Paves, did her hair up for free -- his gift to her.