Britney Out of Her Mind ... for Expensive Clothes!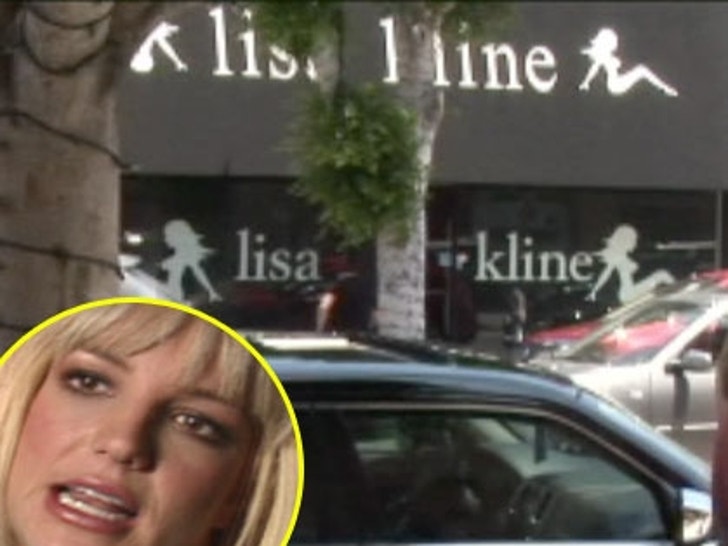 When Britney Spears comes to shop -- chaos follows! The once-hot spendthrift mess took a wild shopping trip to Hollywood on Monday, and word from inside the store is that Britney also dropped a shrimp boat load of cash!

Sources tell TMZ that Britney's super spree at Lisa Kline on Robertson Blvd. was every bit the spectacle one expects from the credit card-wielding weavewreck. Britney asked one employee, "Do you like my hair blond or brown?" They politely replied, "Blond." And Brit said, "I know, blond is totally traditional Britney." Like flashing your babymaker for the paparazzi!
Brit's shopping odyssey included the purchase of Chip and Pepper jean shorts for the brothers Federline, a skull scarf (gotta hide that weave!), a butterfly locket, a Tuscany leather jacket for $564 and a pair of earrings for $214. Happily, she also bought some thongs and a g-string. She then asked to take home the "try on shoes" used by the store for all the customer fittings. What? She also purchased an entire line of Jack Daniels clothing. Nothin' says "I'm classy" like a tee shirt with Old No. 7 on it, y'all!
In less than an hour, Mama dropped $5,263! How she'll end up wearing all that stuff in the course of the next few weeks -- can be found right here, in the Thirty Mile Zone.