Paris' Ex-Partner to Heiress -- WAAAAAH!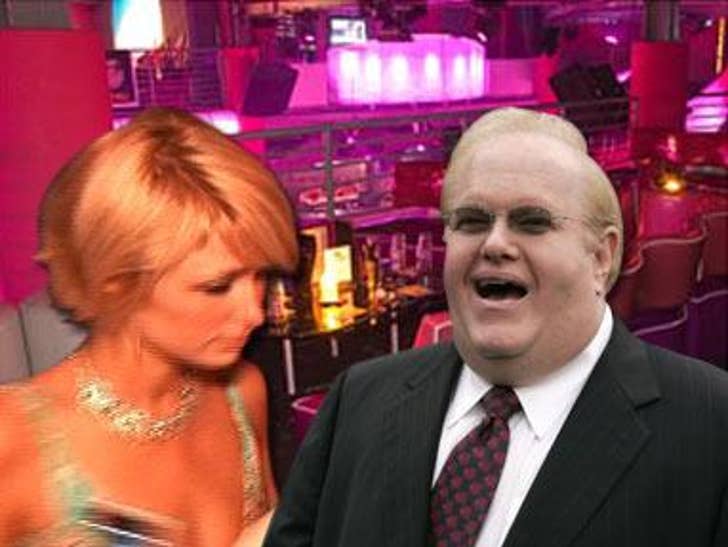 The guy who tried to start a splashy nightspot in Florida with Paris Hilton and alleged fraud artist Lou Pearlman is giving Club Paris a total face-lift -- and you won't believe how mad he still is over their fizzled three-year venture! Bitter party of one?

TMZ just got the press release for the "grand opening" of Dolce Nightclub -- formerly Club Paris -- in Orlando, Fla., and it's anything but sweet. Before he says anything about his "new" joint, owner Fred Khalilian launches into a tirade about suffering "a substantial amount of financial damages due to ... Paris Hilton and Lou Pearlman," and accuses Pearlman of "ripping off thousands of innocent people," which Khalilian says caused the demise of Club Paris.
Sad Fred just keeps piling on the sour grapes, saying that his new "18K VIP Gold Bar" was "once called Paris Hilton's VIP Pink bar," and says that he lost his Jacksonville location due to "Paris Hiltons [sic] no show."
Khalilian does promise that Dolce will have "the hottest drink specials ladies have ever encountered in Central Florida." Maybe that'll bring Paris back! See for yourself just exactly how fried Fred really is.
The full press release from Catreena Dennis, in its unedited form:
We would like to inform and invite you to our Grand Opening on Friday September 14th and 15th of 2007 for the all new Dolce Nightclub. We are located at the old Club Paris location on 122 West Church Street Orlando FL 32801. As you are aware Fred Khalilian, Paris Hilton's old partner from Club Paris, suffered a substantial amount of financial damages due to the fact of his dealings with Paris Hilton and Lou Pearlman. Lou Pearlman the previous owner of Church St. Station in downtown Orlando Florida was also the land lord for Club Paris. Mr. Pearlman has been indicted for a substantial amount of banking fraud and money laundering and in addition to this he was also accused of ripping off thousands of innocent people. This in turn ultimately caused Fred to shut down Club Paris and lose the location in Jacksonville due to Paris Hiltons no show. How coincidental was it that Fred's ex partner in Club Paris, Paris Hilton and Club Paris land lord Lou Pearlman went to jail at the
same time.
The purpose of this invite is for the members of the media to come and see with their own eyes how Fred has transformed and reinvested over a million dollars in addition to the original investment of 3.5 million of the old pink Club Paris into the all new and beautiful Dolce Nightclub. Such a beautiful transformation includes a stylish dark blue, dark green, and 18k VIP Gold bar, the same bar which was once called Paris Hilton's VIP Pink bar. Also changing is the whole main room with pure white, silver, blue and green cocktail bars in place of what used to be all pink. A new performance stage with a white baby grand piano was also added, and behind it sits a marvelous shark tank. Located throughout the club are other giant fish tanks, especially at the VIP bottle service seating room entrance.
In so many words Dolce Nightclub will set a whole new standard for Central Florida's nightlife. Just as our new slogan proudly boasts we will definitely be "defining a new nightlife". There is so much more to describe and talk about for this all new nightclub. It is exciting playing a part in bringing Church Street back to its old "hay days" with Cameron Kuhn and Kuhn Companies, and having another chance to start this all over again. We are going after a whole new upscale audience with trendy music such as Pop, European techno, Jazz, and Disco. We will also bring back a whole new Wednesday Latin night which we will play upscale Salsa, Pop Latin music, and on occasion live popular Latin bands. Thursday night, dedicated to our college audience and ladies, will be the most upscale College/ Ladies night experience. Enforced will be a very strict dress code and provided will be the hottest drink specials ladies have ever encountered in Central Florida.
TGI Fridays will start with our happy hour specials and live piano and jazz music on stage leading the night into some of the world's most popular djs which we will fly in to play us 80's, 90's, Pop music, and then end the night with trendy House music. Lavish drink specials for the hottest men and women and business professionals in Otown. Our Saturday nights we will have live broadcasting with Clear Channel's XL 106.7 FM playing Top 40 pop hits which is also streamed live over the Internet at: www.XL1067.com. We will not be playing Hip Hop but only pop versions and much, much more!
So please come so you can see with your own eyes and hear with your own ears an experience of a lifetime. Thank you to Fred's sponsors and investors for their traditional loans and support that helped make this dream come true for him and central Floridians. This will definitely be something to talk about! We promise that this all new Dolce Nightclub will be built in cities and countries near you very soon. Las Vegas watch out your next! And like Fred says "That's What's Up!"