Priscilla Presley Victim of Cosmetic Scam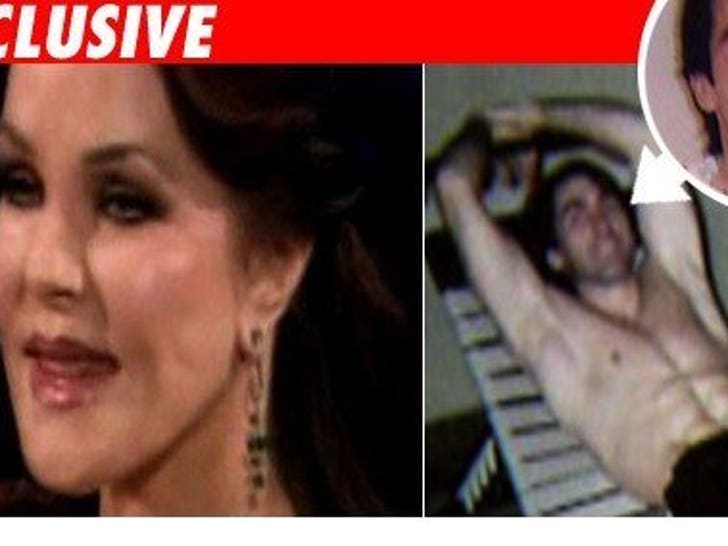 TMZ has learned Priscilla Presley is the victim of a botched cosmetic procedure. What's worse -- it was at the hands of a gigolo who was sent to prison for perpetrating an injectable scam on Hollywood's elite.

Priscilla, whose face looks ... strange on "Dancing with the Stars," went to Dr. Daniel Serrano around 2003. Serrano was a good-looking doc from Argentina who hooked into Hollywood's social A-list and started giving them what he claimed were miracle injections that worked better than Botox.
In fact, Serrano was injecting industrial, low-grade silicone similar to what's used to lubricate auto parts in Argentina into the faces of these women. Several women, including Shawn King, Larry's wife, and Diane Richie, Lionel's wife at the time, held injection parties in their homes, with Serrano needling them with the non-FDA approved drug that he had smuggled in to the U.S. He charged between $300 and $500 a pop.
But wait, it gets worse. Serrano wasn't even a licensed doc in the U.S. The injections caused lumps, paralysis and holes in the faces of some of the women (and some men) he injected.
Serrano, who was nicknamed Dr. Jiffy Lube, was indicted by the Feds for smuggling drugs, and the conspiracy and use of unapproved drugs. He was convicted, and last week he was released and is currently being investigated by federal immigration officials and could be deported.
BTW, Diane Richie was also indicted as an accomplice. She pled out and was placed on probation.
As for Priscilla -- who had no idea she was being injected with silicone -- we're told she's undergoing corrective work.

Miley Cyrus: Kiss My Sass!
One rude, anti-Hannah Montanan got Miley all riled up outside the Pasadena, Calif. Cheesecake Factory.

Heckled by a guy screaming "no one cares," Billy Ray's moneymaker shot back "You need to chill out, you're buggin' me!" -- and started sassing it up even more for the cameras.
"Idol's" David Hernandez Wants to Be "Rent" Boy
TMZ has learned that "AI" wannabeen David Hernandez has come to the Big Apple to audition for the cast of Broadway's "Rent." Hey -- beats strippin' for a livin'!

We caught up with Hernandez on his way into town, and when we pressed him about his tryout, all he would say was that he was auditioning for a show called "Lease." ("Lease" ... "Rent" ... Is he really making a "Team America: World Police" ref? You decide.)
Arizona Dave also seemed a little bewildered by the big city, prodding random strangers for help finding a car and asking a Hasidic Jew whether he was a "Pilgrim."
We contacted "Rent" for comment, but we haven't heard back yet. The Broadway production ends its 12-year run on June 1.
Soleil Moon's Scary Sunday
TMZ has learned paramedics from the L.A. Fire Department responded to the home of "Punky Brewster" star Soleil Moon Frye Sunday, to treat someone at the home for a possible allergic reaction.

We're told the call to 911 came in around 1:15 PM. Units spent about 15 minutes on the scene and then left, without transporting anyone.
Frye and husband, "Punk'd" creator Jason Goldberg, have a two-year-old daughter Poet Sienna Rose, and just had their second child, another girl named Jagger Joseph Blue Goldberg.
The Guy in "Blue Lagoon": 'Memba Him?!
Christopher Atkins became famous after co-starring with Brooke Shields in the 1980 shipwrecked teen romance film, "The Blue Lagoon." Guess what he looks like now!

Pam and Rick Are Officially History
Pam Anderson and Rick Salomon are officially kaput.

TMZ obtained legal papers filed a few minutes ago in L.A. County Superior Court, annulling the marriage that was shorter than Pam's skirts.
The marriage was annulled on grounds of fraud. Initially, when Pam filed legal papers back in December, she was asking for a straight divorce. But on February 22, documents were filed asking for an annulment, citing fraud.
Sources tell TMZ both Rick and Pam privately stipulated to fraud -- that Pam promised Rick they would have children together. As we reported, Pam was pregnant at the time the couple separated. Shortly after the separation, we learned Pam was no longer pregnant. Subsequently both Rick and Pam filed annulment papers.