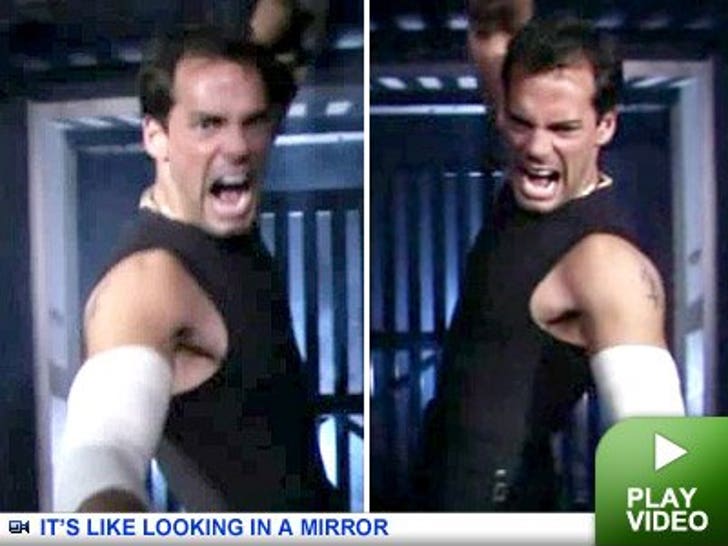 Cristian de la Fuente has been accused of faking his injury on "Dancing With the Stars" -- and last night's episode might be the proof.

Watch this clip from last night's episode closely -- Cristian's arm brace jumps from his left arm (the one he "injured") to his right. Is it just bad editing (his tattoo is always there)-- or is the soap star doing his best acting job yet?
Not all stars opt for plastic surgery when it comes to fixing those small imperfections, but a few might want to consider it. Especially after Dr. TMZ shows them what they could look like. Go ahead and be nosey!

Archuleta's Dad Gives Producer Cold Shoulder
Jeff Archuleta, David's dad, showed up in the audience for tonight's "American idol" and made it clear -- he's pissed at the producers.
As we first reported, Jeff was such a troublemaker, he was banned from backstage rehearsals. According to our spies, on tonight's show during commercials, Jeff shot darts at Executive Producer Nigel Lythgoe. J.A. stared Nigel down and was enraged as he watched the E.P. visibly excited as David Cook performed.
Jeff seemed chummy with Randy. The two bro'd out during several breaks. He hugged Paula two times and whispered something in her ear and she nodded in agreement. No interaction at all with Simon.
Jeff was trying to get the attention of legendary songwriter Diane Warren, but she pretty much wouldn't give him the time of day.
Now that everyone and their mother is walking around sportin' man hands, Madonna has gone and started yet another trend -- man arms!

Madge was snapped in London on Tuesday showing off her guns. Hard candy indeed.
Imagine Me and You, I'll Sue
Two members of the 60's group, The Turtles (you know, "Happy Together'), have sued Capitol Records over an Ice Cube song -- bitches!

According to the suit, filed today in L.A. County Superior Court, Flo & Eddie recorded a song in 1972 for The Turtles called "Buzzsaw." The suit claims the song was sampled in a rap song by Ice Cube called "Jackin' for Beats." Flo & Eddie allege Capital signed a deal for the derivative song but went beyond the agreement to make even more money.
Flo & Eddie want minimum $25,000 but not more than $70,000. We know, it's weird to set a limit when you sue.
Capital, Eddie & Flo -- not happy together.
Gisele -- T & A at the TSA
No entourage, no prissy attitude, no man-servant ... when did Gisele Bundchen become a real (albeit extremely hot) person?

Charming the crowd at LAX, Tom Brady's tight end had every man going gaga -- and was even pulled from line and allowed to cut a woman in a wheelchair. Being beautiful must be tough.