Britney Rings In the Old ... Douchebag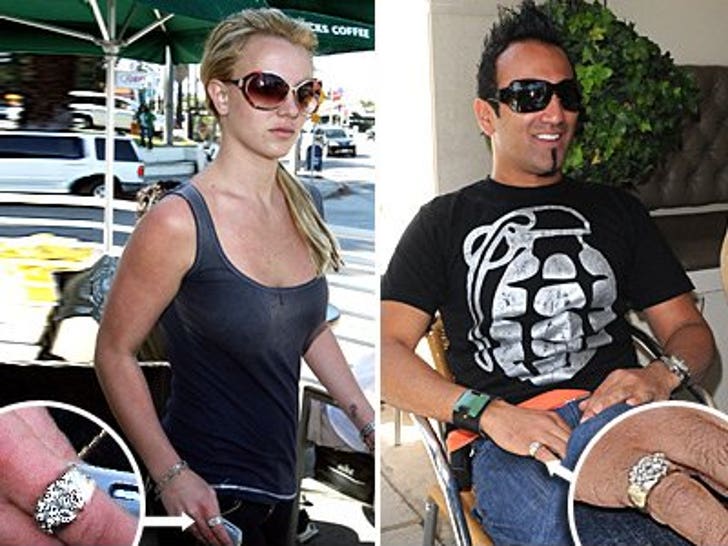 Britney Spears has an ominous new accessory -- a ring Adnan Ghalib made for her during the bad ol' days -- identical to the one he wore. For the love of Sam Lutfi!

Our spies say she's definitely still in touch with Adnan. As for a relationship ... we just don't know.
The conservatorship wonder has been doing great lately. Hopefully the bling isn't foreshadowing a return to her unbeweaveable days of yore.

Double the Estevez, Double the Fun!
Charlie Sheen and Brooke Mueller are taking that whole "Two and a Half Men" thing to heart.
A source close to the couple tells TMZ Brooke is double the preggers -- as in she's expecting twins. Your move, Denise.
The little tykes would be the first for Brooke; Charlie has two young kids with ex Denise Richards and a 22-year-old daughter named Cassandra he had out of wedlock with girlfriend Paula Profit.
Beauty Queen Busted For Puff, Puff, Dash
Miss Teen Louisiana, Lindsey Evans, was arrested along with three friends for allegedly doing a dine and dash over a measly $46.07 bill.
Here's the best part. Evans left her purse in the restaurant and came back for it. She was arrested, and then guess what cops found inside the bag -- weed!!! She's charged with theft and pot possession.
A spokesman for the Miss Louisiana Teen USA organization says they haven't decided her fate. Her reign ends next month.
Judge Judy: Palin Guilty ... of Cuteness
TMZ, Alec Baldwin and now Judge Judy all agree -- Sarah Palin's a full fledged hottie.

As far as leading the country ... well, the jury's still out.
Celebrity Plastic Surgery
Sure, the stars are reassembling themselves all the time -- but there's one guy carving up the biggest names in Hollywood better than their doctors!

And the hand-painted make-up is better too!
John McCain -- Full of Hot Air
There is no denying 72-year-old Republican Presidential candidate John McCain is a real doll.

McCain (left) was given his balloon replica (right) while out campaigning in Missouri on Monday.
Looks like he's finally found a qualified running mate.
Aretha Franklin -- McLovin' It
Aretha Franklin had a mid-day itchin' for two all beef patties, special sauce, lettuce, cheese, pickles, onions and a little R-E-S-P-E-C-T!

The Queen of Soul's ride was spotted under the Golden Arches in D.C. yesterday, and although she didn't go in, our McSpies say someone in her crew made a food run for a Big Mac & fries combo. The details on the drink are sketchy -- she either had an orange drink or an iced coffee. Either way, it was delicious.
No word on if Aretha Super Sized the meal.