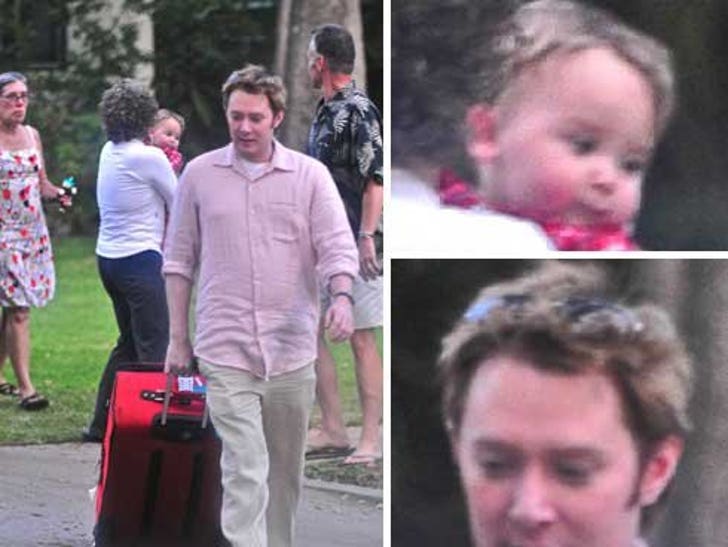 Clay Aiken, his nine-month-old son Parker, and artificially inseminated Clabymama/best friend Jaymes Foster visited some of Aiken's family in L.A. this weekend.
The 30-year-old former "Idol" has learned fatherhood comes with baggage.
'Jon & Kate Plus' ... Each Other
Jon Gosselin from "Jon & Kate Plus 8" was spotted with another woman this weekend ... his wife, Kate.
While pics surfaced of Jon leaving a nightclub with a lady friend last week, the not-so happy couple appeared together at something called the Pennsylvania Women's Show this weekend.
Although Jon claims the woman was just a friend, he did admit his actions "showed poor judgement" ... much like Kate's choice in hairstyles.
Some mistakes work themselves out, while others stick around for life as a reminder of how dumb you used to be!
TMZ's Wacked Wedding Contest -- The Finalists!!!
After sifting through all of the marital mayhem we were able to narrow the Wacked Wedding Contest down to these bitchin' hitchin pix.
If a celebrity walks up to you and offers you some crack -- just say NO!
You Belong in the Circus!
Step right up ... and check out the oddities of Hollywood -- we've got bearded ladies, tight rope walkers, jugglers and a half-woman/ half-fish!
And the best part ... no animals were harmed in the making of our circus!
These gift givers never show up empty handed. See the stars who shell out the surprises!