Charlie Sheen's 'Date' Mugs with Denise Richards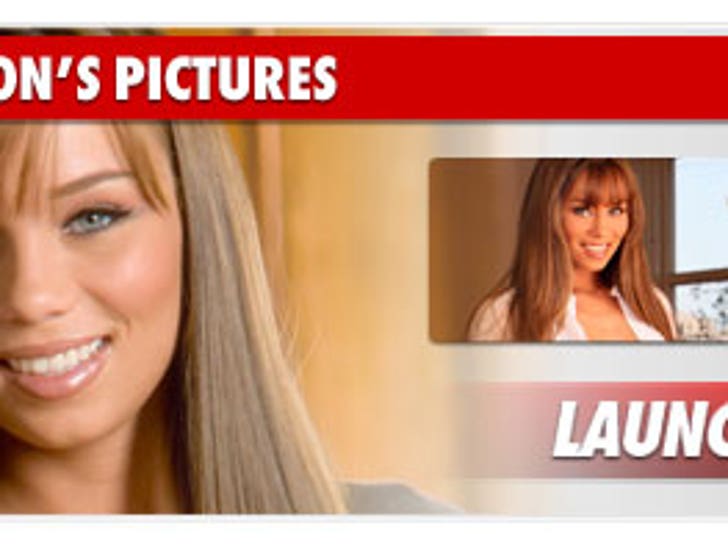 Under the category ... be careful who you pose for pictures with ... TMZ has obtained a now-awkward photo of Denise Richards mugging with Capri Anderson just hours before The Plaza Hotel incident.
The photo was taken at Daniel restaurant in NYC Monday night. Capri, aka Christina Walsh, was there with 4 other women, Charlie Sheen and 3 other men. We're told when Denise walked in, Capri made a beeline for her, saying she was a big fan and wanted a pic with her. If only Denise knew what would happen ...
We're told Denise was shocked when she saw who was at the table and felt so uncomfortable she left before finishing her appetizer. Denise went back to the Plaza and stayed with her kids for the rest of the evening, only to be awakened by loud noise in Charlie's separate suite on the same floor at around 2 AM.
Sources close to Anderson tell us the 22-year-old was "extremely afraid" of Sheen during the hotel incident. Anderson is telling friends she decided to call hotel security because she felt "threatened" by the sitcom star.
And there's more... We've also learned Capri has lawyered up and plans to ask the D.A. in Aspen to violate Charlie's probation in his domestic violence case, on grounds he allegedly threatened her in the hotel room. BTW, we're told Capri never told NYC cops she was threatened.
As for what set Charlie off in the hotel room, sources tell us the actor noticed that a $100,000 watch had gone missing and he believed Capri took it. We're told the watch has not been found.
Klum's New Halloween Costume!
Heidi Klum always goes all out for her Halloween costume -- and based on the sneak peek we got of her new one today, she won't disappoint this year either!
The "Project Runway" host was photographed trying on a red and purple robot outfit this week in NYC -- which she'll wear this weekend at the bash she's hosting at LAVO. And yes, that's former contestant Nicolas Putvinski working on her ensemble!
We'll be sure to have photos of Klum full costume after the event -- but check out our gallery of her killer costumes from previous Halloweens above!
Penelope Cruz Goes Bump in the Night
Looking chic in all black, Penelope Cruz tried to hide her growing Bardem baby bump while leaving a London restaurant last night.
The 36-year-old Oscar winner's first baby with husband Javier Bardem is due in the Spring.
The Guy in 'Scarecrow & Mrs. King': 'Memba Him?
What's the Big Frigin' Difference?!
Can you spot the subtle differences in the following photos? If you can ... than you are a winner!
**HINT -- There are THREE differences in the above pictures**
The Goonies -- 25 Years Later!
"The Goonies" celebrated its 25th anniversary last night in Burbank -- where the cast of the beloved kid's flick gathered for a mini-reunion!
Chunk, Mouth, Data, Rosalita and the Fratelli Brothers were all on hand for the event ... and, wow, have they changed over the years!
Check out how they've grown, plus shots of the rest of the cast as they've been seen out in public in the last few months.
The 25th Anniversary Edition of "The Goonies" comes out on Blu-ray next week.
(Which they AREN'T) they might look a little something like this!