Arnold and Maria's Split -- A Long Time Coming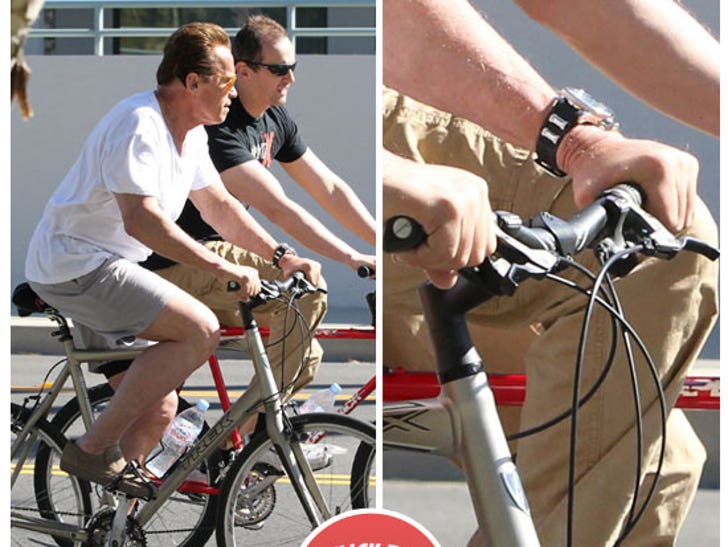 Maria Shriver has been "miserable" in her marriage for a long, long time, sources connected with the couple tell TMZ ... and it's all about Arnold Schwarzenegger's "craziness."
We're told Maria moved out of the couple's L.A. mansion months ago. Sources tell us she's been extremely unhappy in her marriage for years, complaining about Arnold's out of control ego, as well as his womanizing.
We're also told Maria feels Arnold has ignored her for years and she's felt terribly unappreciated.
Sources say the couple has spent "very little time together" for several years. Maria was frequently absent from Sacramento while Arnold was Governor.
The situation got worse once Arnold left office and decided he wanted to resurrect his movie career. Maria felt Arnold was becoming more erratic -- more "unstable."
Our sources say Maria's religious views caused her deep distress over whether to split and/or divorce. As one source put it: "She's been a lost soul for a long time."
Maria -- Contemplated Divorce for Nearly 2 Years
Maria Shriver has been deciding whether to DIVORCE Arnold Schwarzenegger since 2009 ... but sources with direct knowledge tell TMZ, she's been "extremely conflicted."
We're told Maria has been unhappy with Arnold for years ... and first planned to split with him back in 2009 ... but her mother passed away and Maria decided to hold off.
Then, we're told, Maria wanted to try to break it off again in January 2011 ... but her father died ... once again putting the split on hold.
Our source tells us Maria is fed up with Arnold's infidelities ... coupled with the fact he's been "impossible" to live with. We're told Maria's kids acknowledge the issues -- and have pushed their mother to call off the marriage.
People who have spoken with Maria tell us ... despite her STRONG public persona, Maria has become a "shell of the woman" she appears to be because she is "terrified" of Arnold ... but in an emotional, not a physical way.
However, once Maria finally decided to separate from Arnold -- and moved into a fancy Beverly Hills hotel -- we're told Arnold pulled a 180 ... and he's been "working extremely hard" to win her back. As one source says, "He could not be sweeter now that she's left him."
To make things even more complicated, Arnold and Maria have been spending LOTS of time together lately ... hanging out during Easter, Mother's Day and even their 25th anniversary ... which they celebrated together at an expensive hotel.
A source close to the couple tells us ... despite their differences, Arnold and Maria have "serious chemistry between them" ... which is why she has such ambivalence about the break-up.
But ambivalence aside, Maria has been "miserable" in the marriage and has taken a big step to end the relationship.
Arnold Schwarzenegger -- The Ring Disappears
Hours before the world knew about his separation ... Arnold Schwarzenegger broke out his street bike and went for a ride with his bodyguard in L.A. yesterday ... sans wedding ring.
But Arnold WAS wearing his ring on Sunday ... the day before the couple announced their split.
Meanwhile, Maria Shriver has been ringless since mid-March ... right after Maria posted a cryptic video on YouTube asking her fans for advice on how to "transition" into the next phase of her life.
As you already know, Arnold and Maria announced their separation last night ... and in their statement, they claimed they've been living apart for several weeks.
Depp & Co. Take Over Disney for 'Pirates' Premiere!
Main Street of Disneyland was changed into a black carpet last night for the world premiere of "Pirates of the Caribbean: On Stranger Tides" -- and it was one celeb-packed affair!
With stars of the film Johnny Depp, Penelope Cruz, Geoffrey Rush and Ian McShane on the carpet, fans got an eyeful of A-list talent. In fact, Depp barely talked to reporters -- and spent most of his time signing autographs for almost every fan there!
Mystery Mothers -- Guess Who!?
Can you guess which super celebs sent their love to these lucky ladies on Mother's Day?!
The Kentucky Derby -- All the Crazy Hats!
The Kentucky Derby went down this weekend -- and it looked a lot like the Royal Wedding!
The annual horse race brought a lot of celebs to Churchill Downs and a lot of wild headgear with them.
Kate Gosselin, Erin Andrews, Marisa Miller and even Tom Brady were seen in their Derby best, check out the gallery of sightings above!
Famous Faces -- Flippin' Out!
Check out whose famous faces have been turned upside down and given a whole new look on life!
Julianne Hough Goes Two Pieces!
Ryan Seacrest's girlfriend and former "Dancing with the Stars" pro Julianne Hough flaunted her amazing beach body over the weekend in Miami.
Try and guess which super celebrity had some serious (and non-gender specific) '80s hair!
Celeb Hair -- A Cut Above the Rest
Lookin' good doesn't always come easy -- check out which follicly friendly stars put in the groundwork by spending hours at the salon ...
Can you guess whose perfect picture was given an awful celebrity scramblin'?!