Selena Gomez Hospitalized -- Rushed to Hospital for Illness
Selena Gomez
Rushed to Hospital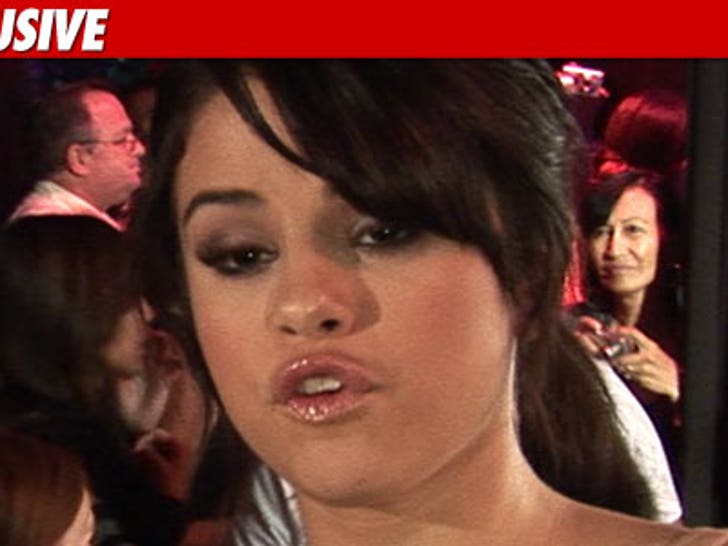 Selena Gomez was rushed to the hospital last night, just after she appeared on "The Tonight Show" -- TMZ has learned.
Sources tell us ... Gomez was feeling horrible during and after the show, complaining of nausea and a severe headache.
She was taken to a Los Angeles area hospital and is still there, undergoing tests.
We're told the exact cause of her illness is not yet known.
UPDATE: Selena just canceled her performance tonight at Santa Monica Place, an outdoor mall in L.A.

Phil
"Baby... baby...baby......"
beachkid
OMG! She may be pregnant.
Howie
Poor girl has been Biebered.
Craig
Oh Lord please tell me there's not a Bieber baby on the way...
Lisa
I think she gort sick from having to sit and talk to Jay Leno...I know he makes me want to throw up
NightOwl
I hope she's preggers, I need the entertainment.
bwdunn
Now they can star in MTV's "16 and Pregnant"
Shawn
I'm thinking this is a publicity stunt; think about it: a weekend full of over-the-top PDA with Bieber in Hawaii, now she's suddenly hospitalized for an undisclosed illness? She's not pregnant--that's just what they want us to think, or at least speculate about.
Fe
Oh no....she's done gone and got Bieber Fever.