Exclusive: Underage Stars Party Illegally at Clubs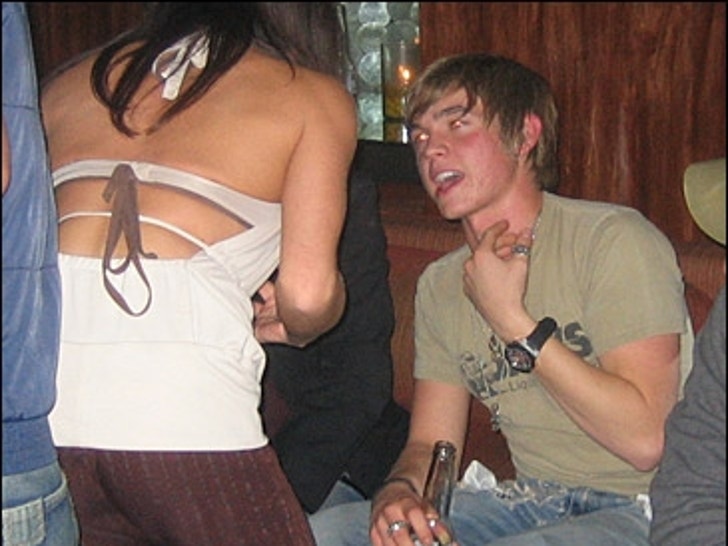 Jesse McCartney is a teen idol -- a hot young singer. The 18-year-old is learning the perks of Hollywood -- that you can illegally enter a nightclub and drink, no questions asked.
This photo of McCartney was taken last Saturday night at Mood, one of the hottest clubs in Hollywood. Under California law, no one under 21 is permitted to enter the club, much less drink inside. But the Corona in Jesse's firm grip tells a very different story.
TMZ has video of other underage stars entering and leaving Mood -- 19-year-old Mary-Kate Olsen, 19-year-old Lindsay Lohan, 20-year-old Frankie Muniz, and the list goes on, though we don't know what they did when they were inside. How do they get away with it?
A Hollywood nightclub promoter, who asked to remain anonymous, was blunt: "Authorities know that there are underage celebrities inside drinking and if they don't care, why should we?" He added the obvious: "Celebrities help to make our clubs more exclusive."
California's Department of Alcoholic Beverage Control (ABC) is charged with enforcing the State's underage drinking laws. TMZ has obtained every citation the ABC issued in the City of Los Angeles for 2005 -- 207 in total. Mood was never cited. Indeed, TMZ's record search revealed that Mood has never been cited since opening its doors. The ABC seems far more interested in busting mom and pop liquor stores, often using underage decoys in sting operations.

TMZ contacted John Carr, Public Relations Director for the ABC, and informed him of our investigation into Mood and serveral other Hollywood clubs. Carr said: "The ABC will not tolerate underage drinking... We will hold business owners accountable if they are serving minors regardless if those minors are celebrities." Carr told TMZ that the ABC is now conducting an investigation.

TMZ contacted David Judaken, who owns Mood. Judaken said: "We are dilligent about ID'ing people," adding, "people come with fake ID's." We informed Judaken, we have video of Lindsay Lohan and others being escorted in without showing ID. Judaken's response: "Certain celebrities ultimately enter lots of clubs who are not entitled to enter." Judaken also offered this: "A lot of them (underage celebs) I thought were emancipated."

TMZ contacted Jesse McCartney's reps, who had no comment.