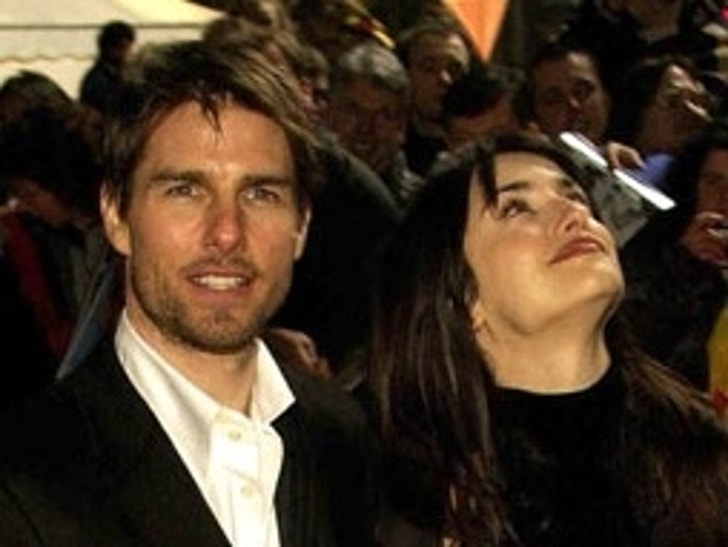 Our weekly Suri Cruise sighting comes not from a Scientologist spreading the word of the as-yet-invisible child, but from one of Tom Cruise's ex-girlfriends.
Yesterday, Penelope Cruz said that she had in fact seen Suri and that the child is "one of the most beautiful babies I've ever seen."
While attending the London premiere of her new movie "Volver," Cruz spilled the goods – just a tiny little bit – on her old squeeze's new kid, saying that Suri is "really beautiful." The Spanish actress, who co-starred with Tom Cruise in 2001's "Vanilla Sky" and dated him for three years, wouldn't give any more details about the unveiling.
This is the third Suri sighting since July, when, first, avowed Scientologist Leah Rimini and later actress Jada Pinkett Smith both told the world that they'd seen the child, who was born April 18 but has yet to be glimpsed by the public. They described her resemblance to both of her parents as well as her full head of black hair.
We want to hear from you - LITERALLY! Call TMZ's toll-free number 866-895-8877 and sound off (but not for more than 30 seconds)! Start with your name and tell us where you live.


When in Rome: Madonna Gets Flak For Mock Crucifixion
Looks like Madonna won't be taking communion at the Vatican anytime soon: The Material Girl is planning to go ahead with the controversial crucifixion element of her "Confessions" tour when it rolls into Rome, even though the Olympic Stadium, where she's performing, is only a couple miles away from the Vatican.
Religious leaders of very different stripes – Catholic, Muslim, Jewish – are all up in arms (yes, we did say that) that Madonna will be binding herself to a fake cross. "To crucify yourself in the city of the pope and the martyrs is an act of open hostility," said Cardinal Ersilio Tonini in the La Stampa daily. "It's a scandal created on purpose by astute merchants to attract publicity."
Muslim and Jewish leaders also deplored the act, which portrays the pop queen descending towards the stage bound to a glittering cross while wearing a fake crown of thorns. NBC, say Rush & Molloy, wanted Madge to take out the scene from her broadcast concert, but it's going to stay in. "Madonna does not think Jesus would be mad at her, as his teaching of loving thy neighbor and tolerance is Madonna's message as well."
Meanwhile, Madonna is going the way of Bono and Angelina into Third World relief, telling Time magazine that she's going to raise $3 million to feed and educate orphans in Malawi, and will make a documentary about their plight in the AIDS- and poverty-stricken country. She has talked to former President Bill Clinton about helping out with the project, and one of the main pieces of the enterprise is an orphan care center that will feed and provide schooling for 1,000 children each day.


Star's Hubby Gets Late-Night Male Visitor
A neighbor of Star Jones and her husband Al Reynolds got an unpleasant surprise Monday morning when a man rang his buzzer at 4 am – only he was looking for Al, according to a report in Page Six. A check of the closed-circuit video monitor revealed "a really big black guy in a bucket hat," says the neighbor.
The confused gentleman caller was just another among strangers who have "continuously harassed" Jones and Reynolds "at all hours of the night," according to Jones' rep, ever since the address of their Manhattan building was made public.
The same neighbor who says he got the late-night buzz also reveals that Al hangs out around the building in Spandex, and that he and Star are together "only when they go to parties. They are always together at night when they go to events," tooling around their Upper East Side neighborhood in a big shiny Benz. Star and Al are fighting allegations that their marriage is on shaky ground, and have hired lawyers to go after any and all who say so.
We want to hear from you - LITERALLY! Call TMZ's toll-free number 866-895-8877 and sound off (but not for more than 30 seconds)! Start with your name and tell us where you live.
Philanderer Cook Sees His and Christie's Kids Almost Daily
In news that will surprise no one, Peter Cook and Christie Brinkley have had interactions since Cook admitted his cheating ways, but any contact they have is all for the kids. "It's a strained relationship," says Cook's attorney Norman Sheresky, in the New York Daily News. "I think they mostly talk about their kids and stay away from other subjects."
Brinkley, who has a 7-year-old daughter, Sailor Lee, and a 10-year-old boy, Jack Paris, with Cook, returned to the Hamptons and the couple's mansion recently, and has had encounters with her husband, who is apparently not banished from the house. But a reconciliation does not seem imminent. "Peter would love to reconcile," says Sheresky. "But I can't get inside her head. Right now, I think they are acting like concerned parents."
Goodie Bag: McCarthy and Carrey Do Vegas (But No Wedding) and CNN hires Castro's Daughter
Jenny McCarthy and Jim Carrey lived it up last weekend at Las Vegas' Palms Casino Resort, says People, but didn't have a quickie wedding while they were there. They stayed in a $25,000-a-night villa and gambled, but there are currently no nuptial plans. "There is no marriage on my mind," says Jenny, "at all.". . . CNN has hired the estranged daughter of ailing Cuban dictator Fidel Castro. Alina Fernandez was 3 years old when Castro took power, but left Cuba disguised as a tourist in 1993. She moved to Miami and is a radio host there, and will provide reporting and commentary about the Cuban situation for the network.