Motion Captured: Disney Poaches Robert Zemeckis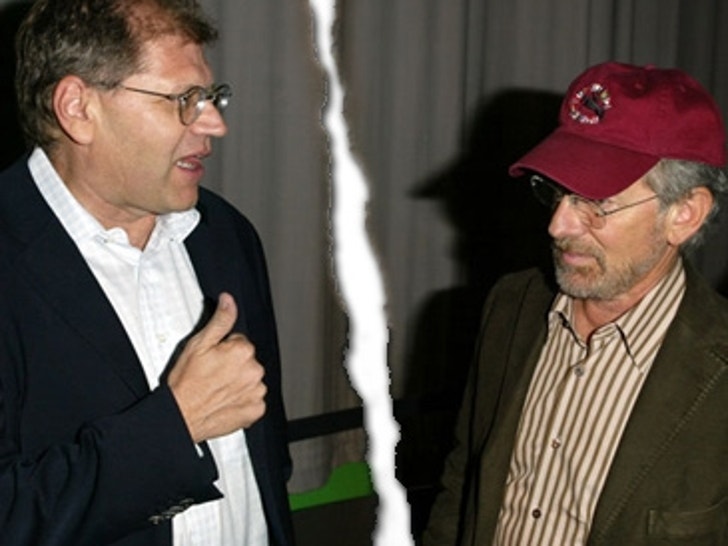 BREAKING NEWS: In a move with broad implications for the future of the animation business, TMZ has learned that The Walt Disney Company has poached Oscar-winning director Robert Zemeckis from DreamWorks Pictures, and is a cat's breath away from signing his ImageMovers production company to a multi-year deal at The Walt Disney Company's Disney Pixar Animation.
Seeking entry into 3D animation, Disney paid $7.4 billion to acquire Pixar Animation last January, but that company's chief creative officer, John Lasseter, has been reluctant to tamper with Pixar's venerated tradition of - like Ernest & Julio Gallo - serving 'no wine before its time' - which at Pixar usually means a new film every 18 months or so.
As one insider with knowledge of the ImageMovers negotiations explained, that's not enough for Disney Studios chairman Dick Cook. Said the insider: "Pixar's output is their output, and they feel that the only way they can keep the quality control where they need it is to keep going at the pace they've been going. But [Disney CEO] Bob Iger feels that while Pixar was a good first step into making sure Disney is the preeminent force in animation, it's only the first step."
Cook has been a long time fan of Zemeckis, who despite winning the Best Director for the live-action "Forest Gump," has of late become enthralled with so-called "motion capture" film-making. "Motion capture" allows actual human movement to be digitized and turned into animated action, as a real-life Tom Hanks was morphed into an ancient train conductor in Zemeckis' "The Polar Express." Indeed, insiders say that despite his widespread reknown for movies like "Back to the Future" to "Cast Away," Zemeckis has all-but-retired from making live-action films, concentrating instead on motion-captured films, like the forthcoming "Beowulf," which will be released by Sony here in the States and Warner Bros. overseas.
If you're noticing an odd pattern here, it's this: Despite being one of the preeminent film directors of his generation, and despite having been all but joined at the hip with Steven Spielberg at DreamWorks Pictures almost since its inception, none of Zemeckis' motion capture films have been released by DreamWorks.
Zemeckis is said to be deeply disappointed with his years at DreamWorks, which is now part of Paramount Pictures. Instead of flourishing at DreamWorks, Zemeckis' movies have been developed elsewhere. Meanwhile, Paramount this last weekend released Steve Odekerk's CG film "Barn Yard" through its Nickelodeon Films.
So badly did the lack of deal-making at DreamWorks strain his relationship with DreamWorks Animation chief Jeffrey Katzenberg, that Zemeckis tried to decamp four years ago for Warner Bros. At the last minute, Spielberg himself called Zemeckis, beseeching him not to leave, and promising that things would be different.
As it happened, things weren't.
In the interim, Zemeckis' new-found motion capture passion isn't just appealing creatively: His latest film, "Monster House," is reported to have cost only $75 million, or less than half of what a typical Pixar film budget looks like. Most appetizing to Disney is the idea that a CG-style film could be made at such a reduced price, and still do well without needing to fill 4,000 theaters to capacity nationwide. In short, Pixar movies without the Pixar price or wait.
Insiders say that under the terms of the new ImageMovers pact, Lasseter will consult on all ImageMovers productions, leaving the studio to get "Pixar"-like product without meddling with Pixar's sacrosanct corporate culture. With the move, Disney is clearly aiming to own all areas of animation once again: With Pixar, 3D animation. With Disney Feature Animation, 2D. (As Animation Magazine recently reported, "During a panel at Comic-Con, director Eric Goldberg ("Pocahontas") mentioned that Disney is developing a 2D feature titled, "The Frog Princess.") And now, with its new friend Robert Zemeckis, the goal is clearly to own the more-economical motion capture space, too.
Calls to a Disney spokesperson were not returned at deadline, and a spokesman for Zemeckis declined comment on the talks. An official announcement could come as early as next week.