K-Fed's Big Night: PoPo...Huh?
Aspiring rapper Kevin Federline made his much-anticipated debut at last night's Teen Choice Awards, but his performance was as notable for what you couldn't hear as for what you could.
K-Fed's rhymes were apparently a little too racy for the tender-aged audience, as significant portions of the rapper's act were bleeped out by Fox censors. But at least he got off to the right start: His wife Britney Spears, a Teen Choice mainstay, was nice enough to introduce him to the world, despite her very gravid state.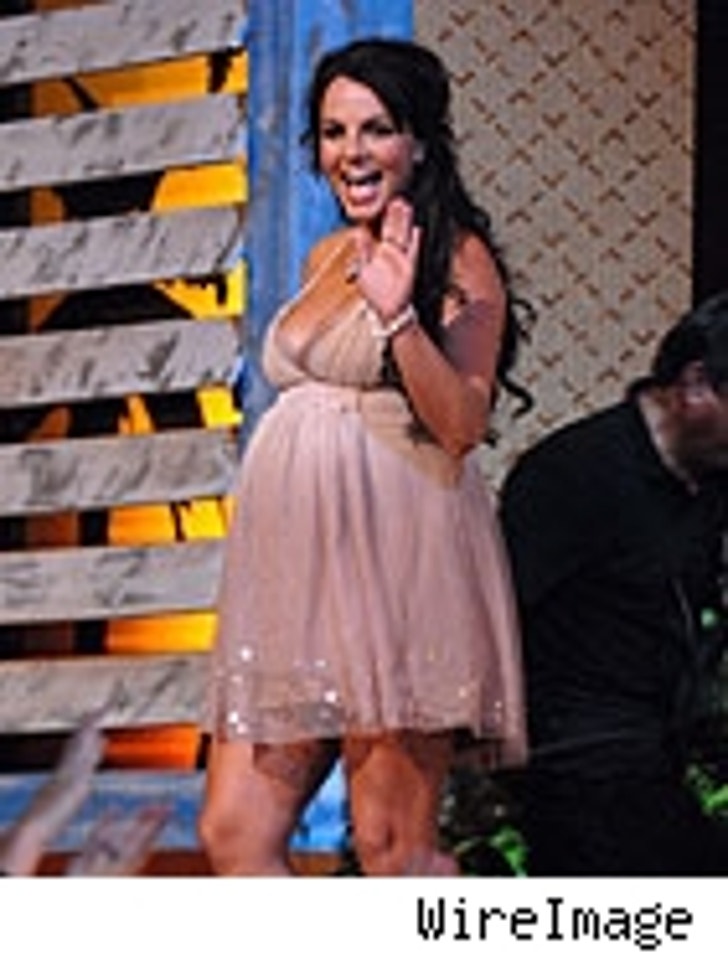 A very preggers Britney thanked the show for being "very good" to her, and wished the same for "her man," who kept the crowd in suspense as a couple of young K-Fed-alikes mouthed the opening lines of his song. Then, with something less than a flourish, K-Fed, sittng at a grand piano in all his white-tank-topped glory, spun around to face his wondering public. His Eminem-lite hip-hop style seemed to keep the crowd reasonably engaged, but for a former dancer, his steps were largely non-existent. What's more, presenter Paula Abdul, never known as the world's toughest critic, told a reporter for USA Today that she had only heard a little of the song, but that she'd heard it wasn't very good.
Elsewhere at the Awards, Nick Lachey admitted that being at the show with his ex-wife Jessica Simpson hosting was "awkward," and Jennifer Aniston and Vince Vaughn vamped a little on their relationship, bickering with each other as they accepted an award for on-screen chemistry like an old married couple – even if they aren't even engaged.
In one of the more bizarre celeb fixations of recent times, a new autobiography by a woman who claims to have been Osama Bin Laden's concubine also suggests that the world's most wanted man himself really wanted songstress Whitney Houston, and was willing to go to great lengths to win her heart.
Kola Boof, a Sudanese poet and novelist, writes in "Diary of a Lost Girl," excerpted in Harper's magazine (via Page Six), that Bin Laden deemed Houston "the most beautiful woman he'd ever seen." What's more, Osama said that "he wanted to give [her] a mansion that he owned in a suburb of Khartoum" and that to nab the diva, "he would be willing to break his color rule and make her one of his wives."
And Bobby Brown better watch his back: Boof says that Osama believed that Whitney had been "brainwashed by American culture and by her husband – Bobby Brown, whom Osama talked about having killed." No comment was immediately available from Bin Laden's reps.
Busta's Bust A Police Ruse, Says Lawyer
Busta Rhymes' lawyer says that his client's Saturday night bust was "payback" by the New York Police Department for refusing to cooperate in their investigation into the death of his former bodyguard. Attorney Scott Leemon claims that Rhymes should have been given a desk appearance ticket rather than being arrested, though the police point out that such tickets aren't given for felony assault charges, which Rhymes was hauled in on Saturday. Prosecutors have since reduced the charges to third-degree assault and harassment, both misdemeanors, reports the New York Daily News.
Yesterday, Judge Michael Obus in Manhattan Criminal Court waived the rapper's $3,000 bail, and Rhymes avoided reporters and cameramen as he slipped out a back door on the way to his Tribeca loft.
"Snakes" On Top of Weekend Box Office
After all the Internet and media hype, "Snakes On A Plane" finally unfurled in theaters, and while it opened to $15.3 million and came out on top of the weekend box office, that number didn't quite reach the dizzying heights that some had predicted. Given the picture's modest estimated budget, said to be in the mid-30 million range, the weekend opening bodes well for New Line to make its investment back – and more.
Meanwhile, "Talladega Nights" and "World Trade Center" fared well, with the former losing just 36% of its audience from the weekend before to come in second with $14.1 million. Also, the Universal college comedy "Accepted," which had tracked comparably to "Snakes" beforehand, ended up well behind in the end, with $10.1 million to land it in fourth place.
Goodie Bag: Melania Trump Uses Craigslist, and Stoner Kumar To Take on "24"
A New York nanny was surprised by a certain respondent to a recent posting she put up on Craigslist, says Page Six – it was none other than Melania, Mrs. Donald Trump. The full-time live-in nanny position that the Trumps are looking to fill starts Sept. 7, and summer weekends will be spent in upstate New York, while winter weekends will be in Palm Beach . . . Kal Penn, best known as pothead medical prodigy Kumar in "Harold and Kumar Go To White Castle," has been cast in a recurring role on Fox's "24." The Hollywood Reporter says that he will play "a guy who is somehow involved with the Islamic guru running the neighborhood mosque and might be the key to a terrorist plot." Penn is also attached to star in the "Harold and Kumar" sequel, which finds the Asian wonder duo going to Amsterdam.