MGM's Dissembling Isn't "Hobbit"-forming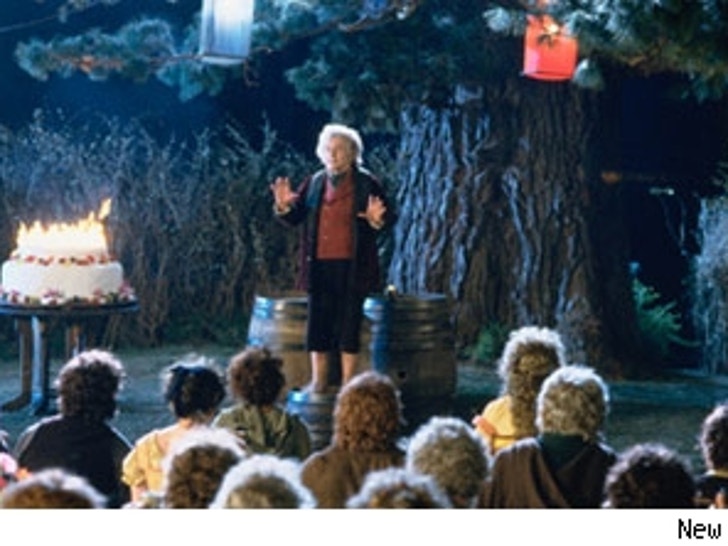 We found MGM's announcement that it will be making "The Hobbit" quite a hoot.

"Having barely finished remaking MGM into a pure distribution and marketing outlet for producers of mid-range indie pics, [CEO Harry] Sloan is moving the studio aggressively into the tentpole biz. Over the next few years, MGM is planning to release half a dozen films, some in the $150 million to $200 million-plus range. Studio is ready to unveil such high-profile projects as "Terminator 4"; one or two installments of "The Hobbit," which Sloan hopes will be directed by Peter Jackson..."
Fine, except for this: MGM doesn't have the rights to make "The Hobbit."
Back in the 1960s, J.R.R. Tolkien sold the rights to MGM's United Artists to distribute a motion picture of "The Hobbit."
Tolkien sold the rights to actually make the film to producer Saul Zaentz, who then passed them on to Miramax, which finally sold them to New Line Cinema -- the mini major which, of course, made the "Lord of the Rings" trilogy that needs no introduction.
So, here we are, in a Mexican stand-off: New Line has the right to make "The Hobbit", but not distribute it. MGM has the right to distribute "The Hobbit," but not to make it.
Further complicating matters, "Lord of the Rings" director Peter Jackson is involved in a two year old accounting dispute with New Line over the profits from his trilogy, and has a trial date set for this November to finally resolve it. Until the riches from "Rings" get divided in court, I can assure you that Team Jackson won't be working for New Line.
(Laughs one member of the Jackson camp: "When I read the Variety story, I chuckled so hard I almost choked on my Sunday morning coffee.")
Instead of Hobbit-ing, Jackson's hard at work producing movies, like the recently announced "Dam Busters" and the long-in-the-coming video game adaptation of Microsoft's wildly popular "Halo." He's also in pre-production on Alice Sebold's novel, "The Lovely Bones," which he'll direct next year.
(UPDATE - And here's one more: Per Sept. 12th's Hollywood Reporter, "Peter Jackson is eyeing his next fantasy series. The filmmaker has dipped into his discretionary fund to option 'Temeraire,' a historical fantasy series by first-time novelist Naomi Novik, as he puts the pieces together for his career post-'King Kong.' ")
As all of these projects stack up, it'll likely be four years before Jackson could go to work on "The Hobbit," which is probably the minimum amount of time needed to iron out the money owed Jackson on "Rings" as well to fashion a resolution to New Line and MGM's thorny "Hobbit" squabble.
For cinephiles, the deadlock is irritating.
But for stockholders of Time Warner, the impasse is a travesty. Quite honestly, we're shocked that Carl Icahn or some such dissident corporate raider hasn't used the issue to further bludgeon Time Warner supreme commander, Dick Parsons. After all, a billion dollar franchise just waiting to be made with an Oscar winning director, but a bunch of lawyers are all that's in the way?
In the meantime, you might wonder: Why is MGM's CEO Harry Sloane acting like he's got the keys to the Shire?
Well, we can't help but notice that MIPCOM -- the world's largest market for co-producing, buying, selling, financing and distributing entertainment content across all platforms -- is less than a month away in Cannes. Sloane's message to international TV executives clearly is "We're not just a library of old movies! We can make 'The Hobbit!'"
For those who don't know the convoluted history of "The Hobbit" it's a compelling message. Unfortunately, Harry's speechifying to the contrary, MGM very much lacks the one ring to rule them all.