Rachael To Martha: "Out of My Kitchen, Bee-Yotch!"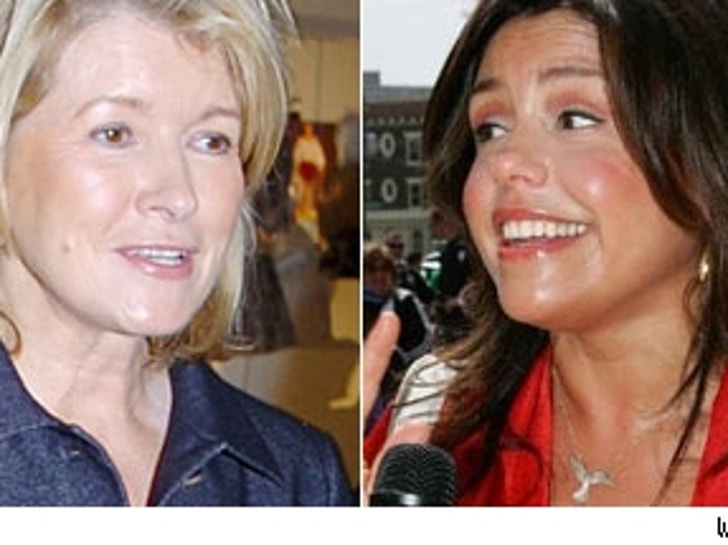 Let the battle of the spatulas begin: Four staffers from Martha Stewart's show tried to sneak into a taping of junior domestic diva Rachael Ray's show last week, but a security guard who works for both shows recognized them and had them ejected. Ray's show, which begins today on its nationally syndicated run, will compete against Stewart's daytime show, which has garnered only so-so ratings thus far.

But a Page Six source says that Ray's show has nothing to hide: "[The spies] were kicked out because they lied about their names. Otherwise they would have been welcome to stop by." A Stewart spokesman says the quartet weren't asked to leave by the guard, but by one of Martha's former audience coordinators who now works for Ray.

Second Autopsy on Daniel Smith Inconclusive
The independent medical examiner hired by Anna Nicole Smith to look into her son Daniel's death said yesterday that he could not determine exactly what killed the young man, but ruled out several natural causes such as heart disease, stroke, or a "congenital anomaly," and added that foul play was probably not involved. However, TMZ has been told by authorities that the cause of death has been known definitively for more than a week.
"I don't find anything that would cause me to believe there is something in terms of some traumatic injury that was inflicted, or somebody having done something to him in some cryptic manner that could not be observed," said Cyril Wecht, a forensic pathologist who consulted on the deaths of Elvis Presley and Jon Benet Ramsey.
Wecht told reporters that he had ordered Daniel Smith's medical records from the United States and that he had ordered more tests that could take weeks to complete; what's more, he has sent samples to a lab in the US for testing, including toxicology tests. The toxicology report from Bahamian officials is due this week, and an inquest into Daniel Smith's death will begin October 23.

More Malfunction: Janet's Boobs Are Back
She may have flashed, oh, a billion or so people back in 2004 during halftime of the Super Bowl, but that apparently wasn't quite enough exhibitionism for Janet Jackson. The pop diva will be appearing bare-breasted in her new video for the single "So Excited," according to MSNBC's Jeannette Walls. Perhaps her show-off fixation has something to do with a guy – not known for his own body-image stability – who gave her a complex way back when: "My brother used to tease me ... He thought my butt was too big," says Janet to Giant magazine.

McPhee: Wonder Woman Would Be "Mistake"
Katharine McPhee doesn't want to don the tiara and gold wrist-cuffs after all: The American Idol diva tells Entertainment Weekly that doing the iconic superhero role would be "a huge mistake," and that she's not going to be some "slutty female" when she poses on the cover of Shape magazine.
The apple-cheeked songstress thinks that the prospects for a "Wonder Woman" flick wouldn't very good, and that the production is in an incredibly early stage anyway. McPhee also says that any suggestion that she skipped the first three weeks of the "Idol" tour are "totally false" and that her new record will surprise her fans: "People in the industry are hearing about what I'm doing, and they're really surprised, and I like that." But if things don't quite work out, Kat has a plan for self promotion: "If my career's going downhill, then I'll do Maxim or FHM!"

Party Favors: Basinger Called Baldwin "Saddam Hussein," Willis Disavows GOP, "Gridiron" Wins B.O.
Alec Baldwin was once called "Saddam Hussein" by his ex-wife Kim Basinger, with whom he is currently embroiled in a very acrimonious custody battle over their daughter. The moniker so upset Baldwin, according to an interview in October's GQ (via Page Six), that he didn't want to get out of bed for some time afterwards. And Baldwin didn't have very kind things to say about Basinger's lawyers, but defends Charlie Sheen and Tom Cruise ... Bruce Willis tells Lloyd Grove that he's always "being accused of being a Hollywood Republican" – but he's not. "I have just as many Democratic ideas as Republican ones," says the actor. That's not a good sign for the GOP right before mid-term elections ... The Rock proved the combination of him and football makes for good box office – his starring vehicle "Gridiron Gang" pulled in $15 million over the weekend in its debut to land it in first place.